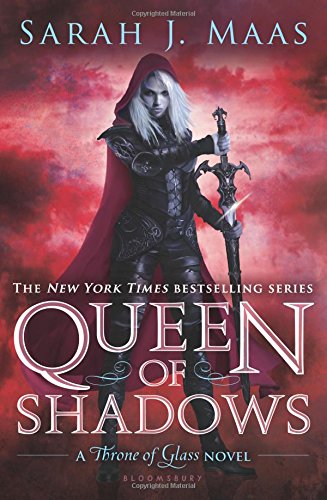 Publisher's Note:
Sarah J. Maas's New York Times bestselling Throne of Glass series reaches new heights in this sweeping fourth volume.
Everyone Celaena Sardothien loves has been taken from her. But she's at last returned to the empire-for vengeance, to rescue her once-glorious kingdom, and to confront the shadows of her past...
She has embraced her identity as Aelin Galathynius, Queen of Terrasen. But before she can reclaim her throne, she must fight.
She will fight for her cousin, a warrior prepared to die just to see her again. She will fight for her friend, a young man trapped in an unspeakable prison. And she will fight for her people, enslaved to a brutal king and awaiting their lost queen's triumphant return.
Celaena's epic journey has captured the hearts and imaginations of millions across the globe. This fourth volume will hold readers rapt as Celaena's story builds to a passionate, agonizing crescendo that might just shatter her world.
This book was sent to Compass Book Ratings for review by Bloomsbury Children's Books
Queen of Shadows (Throne of Glass, #4)
by Sarah J. Maas
Overall Review:
Queen of Shadows is book four of the Throne of Glass series and after reading the first few books I really looked forward to continuing. Because I was unable to get my hands on book three I jumped right over it to book four. As a result there was confusion and it took a bit of time to get up to speed and start enjoying the book. Learn from my mistake and read the books in order from start to finish. Once I understood what was going on, the book became very interesting. The characters in this series are multi-layered, frequently throwing the reader curve balls. The plot is quite intriguing and things become pretty intense, especially in the last bit of the book. Many new characters are introduced in the story, adding to the complexity of the plot and with it plenty of surprises. As the protagonist Celaena/Aelin has gotten older, there are more serious issues that she hasn't had to deal with before, and it's pretty hard to not want to cheer her on as she always seems to make the right choices (although some might disagree), even when faced with the extremely difficult ones.
Those who enjoyed A.C. Gaughen's Scarlet trilogy or fantasy novels with a fierce female protagonist should try this series. There are two additional books scheduled so be prepared to have a few more great books to lose yourself in this engaging story.
Content Analysis:
Profanity/Language: 62 religious exclamations; 122 mild obscenities; 25 religious profanities; 47 derogatory names; 69 scatological words; 44 anatomical terms.
Violence/Gore: Many (122) brief incidents including but not limited to verbal threats; character wanting to hurt another; characters with knife at throats; secondhand report of beheading; many secondhand reports of characters getting killed; reference to characters getting poisoned; secondhand report of attempted murder; secondhand report of damaged property; references to characters getting tortured, beat and branded; secondhand reports of children getting hurt and abused; characters talking about war and fighting; secondhand report of character getting fingers broken; reference to pregnant character being killed; secondhand report of character killing someone and mutilating the body; characters go to area with many bones from dead bodies; several incidents of characters getting scratched or cut resulting in non-life threatening injuries; a few incidents of fantasy characters getting killed; characters boxing/fighting; characters getting tortured; character gets shot with an arrow; character gets attacked and gets wounded; beheading; several incidents of non-detailed killing; dead body gets decapitated.
A few (2) extended incidents of characters fighting, one of which is fantasy characters.
Sex/Nudity: Many (72) brief incidents including kissing; hugging; holding hands; cuddling; touching face; arm around; a few incidents of characters looking at another sexually; male and female character share bed several times (no sex is involved); several (non-sexual) incidents of characters getting naked to bathe or change clothes; character sleeps naked; character's clothes removed for healing purposes; character walks around naked to show wounds on body; innuendo; reference to character's hands all over another; pimps mentioned; character says she would "whore herself"; several references to courtesan/whore; reference to "flesh" sold at market; mating briefly mentioned; female character wears lingerie for male character a few times (nothing else occurs); joking about male body parts; character rubs oil all over body; female character tells male character she's not wearing undergarments; reference to male character seeing female character naked; male characters looking at female character's chest (clothed); reference to sex; character only wearing undergarments; character touches another's butt (fully clothed); male character lays half-way on female character and they mention that they want to do more; female character touches male characters bare chest and they kiss; several incidents of reported sex; reference to pregnancy of unmarried girl; female character sits in male characters lap with his hand up her shirt; female character gets fondled.
Mature Subject Matter:
Slavery, sex, prostitution, torture, murder.
Alcohol / Drug Use:
Drugs sold at the market; references to drug dealers; wine mentioned as a metaphor; characters drinking alcohol at restaurants and events.
Reviewed By Jenny