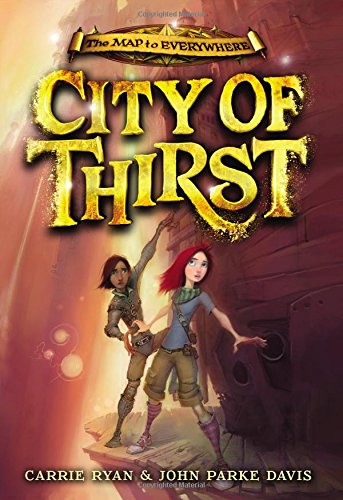 Publisher's Note:
New York Times bestselling author Carrie Ryan and John Parke Davis transport readers back to the boundless world of the Pirate Stream in this engaging and exhilarating sequel to the highly acclaimed The Map to Everywhere that is equal parts adventure, humor, and heart!

When the magical waters of the Pirate Stream begin flooding Marrill's world, the only way to stop the destruction is to return to the Stream and find the source of the mysterious Iron Tide. Reunited with her best friend Fin--who has been forgotten all over again--Marrill, her disbelieving babysitter, and the Enterprising Kraken crew must make the treacherous trek to the towering, sliding, impossible world of Monerva and uncover the secrets of its long-lost wish machine. Only there can Fin wish to finally be remembered. Only there can Marrill wish to save her world and all the people she loves. But to get everything they've ever wanted, Marrill and Fin may have to give up on the most important thing they already have: each other.
This book was sent to Compass Book Ratings for review by Little, Brown and Company
City of Thirst
by Carrie Ryan & John Parke Davis
Overall Review:
City of Thirst is the sequel to The Map to Everywhere and as such, it is strongly suggested that the reader read the books in order. The beloved characters from the first book are back with a few additions, such as Arizona's best babysitter--who, by the way, rocks! This middle grade fantasy is jammed with action and activity, but the authors manage to develop some angst between friends, Fin and Marrill, and explore what exactly it means to want something and if wishes should come true. This is a book that practically reads itself and it should appeal to both female and male readers. It continues to be a fun-filled and mishap-filled fantasy that captures the whimsy that magic should have. Although it doesn't have a cliff-hanger ending, it is clear that there is more to come in this series.
Review of a Digital Advance Reader Copy
Content Analysis:
Profanity/Language: None
Violence/Gore: Animal injured by another animal; sounds of sword fighting; characters recall climactic events from previous book; fantasy creatures attack a character and attempt to carry off; a guard tumbles down stairs, violence inferred; imminent threat of world destruction; character bangs head; character dropped from a great height, minor injuries; characters crash into one another (comical); characters chased by fantasy/magical creatures; fire and fire explosions; fantasy creature dissolved with substance (non-detailed); destruction of a machine; destruction of a city; extended scene involving a character (magical) catching fire, starting to burn/melt, and falling into water and magic used to imprison another; destruction of a character (magical) by magical means (non-detailed).
Sex/Nudity: A nebulous pronoun/relationship reference regarding an incidental fantasy creature.
Mature Subject Matter:
Parent illness, personal crisis, world destruction.
Alcohol / Drug Use:
Some characters drink a strong-smelling, amber liquid that one might infer to be alcoholic in nature.
Reviewed By Cindy