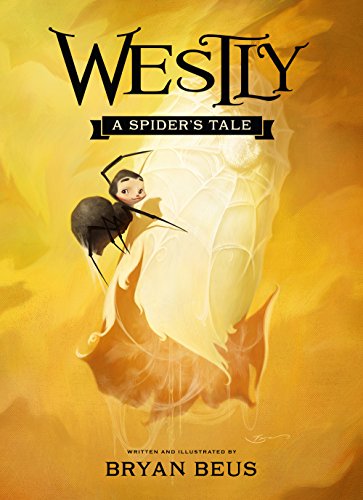 Publisher's Note:
This is tale of a caterpillar named Westly who is destined to be a Monarch butterfly and the next king of the butterfly kingdom. But sometimes things don't turn out the way we plan. When Westly emerges from his cocoon he is nothing like he expected. As a spider he must rediscover who he is. Adopted by the "dirt eaters," Westly is determined to make a difference. He is determined to belong, to be loved, and most importantly, to become who he was born to be.
This book was sent to Compass Book Ratings for review by Shadow Mountain
Westly: A Spider's Tale
by Bryan Beus
Overall Review:
Westly's whole life has always been mapped out for him: emerge from his cocoon and take his place as a butterfly prince. But all those plans are dashed to pieces when he emerges from his cocoon, not a monarch butterfly, but a small black spider. Can he find his place in his world, or will he inadvertently destroy it?
Westly: A Spider's Tale by Brian Beus is a sweet and endearing tale of acceptance, both of one's self and by others. The main character, Westly, is a relatable young bug who does his best to overcome the challenges that come his way. Despite rough patches, and a few bad judgment calls, Westly grows as a character throughout the book and through his challenges he learns that you don't have to have big, beautiful wings to be a leader.
The story is a wonderful coming of age story that exudes a charming innocence. With a message that speaks to all ages, it is a thoroughly enjoyable read for all young readers.
Review of an Advance Reader Copy
Content Analysis:
Profanity/Language: None
Violence/ Gore: (Note: All characters are insects or animals.) Characters are told the outside world is dangerous; characters chase a another; character becomes tangled in thread; character's wings get damaged; character eats himself sick; character implies climbing could be very dangerous; character accidentally pulls off antenna; character sheds skin; character causes panic and mild destruction; character falls into a mushroom; character runs into plants; character gets caught in carnivorous plants (twice); character falls into pool of water; character bites another's foot; character causes destruction while trying to be helpful; character tells of dangerous plants; character gets hit with a ball of thread; character nearly eaten by worms; character is almost squished; character catches butterflies with a net; character tells others the butterflies will die without help; character traps bugs; character plans to make jewelry out of butterflies; characters break chandelier; character gets trapped; character falls down a well.
Sex/Nudity: None
Mature Subject Matter:
Acceptance, betrayal, friendship, class politics.
Alcohol / Drug Use:
None
Reviewed By Amberle