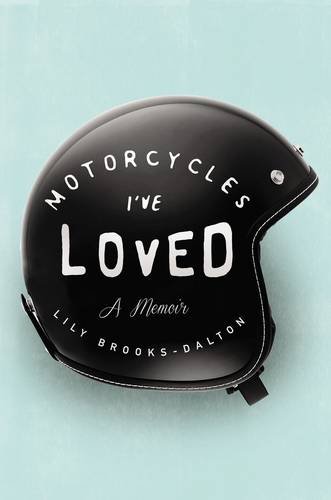 Publisher's Note:
A powerful memoir about a young woman whose passion for motorcycles leads her down a road all her own.

At twenty-one-years-old, Lily Brooks-Dalton is feeling lost; returning to New England after three and a half years traveling overseas, she finds herself unsettled, unattached, and without the drive to move forward. When a friend mentions buying a motorcycle, Brooks-Dalton is intrigued and inspired. Before long she is diving headlong into the world of gearheads, reconsidering her surroundings through the visor of a motorcycle helmet, and beginning a study of motion that will help her understand her own trajectory. Her love for these powerful machines starts as a diversion, but as she continues riding and maintaining her own motorcycles, she rediscovers herself, her history, and her momentum.

Forced to confront her limitations—new and old, real and imagined—Brooks-Dalton learns focus, patience, and how to navigate life on the road. As she builds confidence, both on her bike and off, she begins to find her way, ultimately undertaking an ambitious ride that leaves her strengthened, revitalized, and prepared for whatever comes next.

Honest and lyrical, raw and thoughtful, Motorcycles I've Loved is a bold portrait of one young woman's empowering journey of independence and determination.
Motorcycles I've Loved: A Memoir
by Lily Brooks-Dalton
Overall Review:
Some people ride horses, others love their muscle cars. Or maybe you are like me, and books are your "thing". Most everyone has a passion, or a hobby. Something they like to do because it inspires them, makes them feel alive. Some people ride motorcycles. For Lily Brooks-Dalton, just riding a motorcycle isn't enough. No, she wants to own that machine. Lily mentions several times throughout this book that she is kind of on the small side. I couldn't help but wonder if it gave her some sense of power or a bigger sense of self to be in control of something so large.
I personally do not drive a motorcycle. I grew up watching my dad ride, and for much of my adolescent years he proudly owned a Harley Davidson that he had scrimped and saved for for years. I can't say I quite understand what Lily Brooks-Dalton feels when she is riding, but I know whatever it is, it must be exhilarating because she keeps coming back for more, even after a few accidents that left her feeling bruised and scared.
This book was very well-written and made me appreciate motorcycles a little bit more. Throughout the book, Lily adds memories of her life and little bits of detail here and there that really help to pull this story together. If you have even the slightest interest in motorcycles, I recommend this book.
Content Analysis:
Profanity/Language: 1 religious exclamation; 5 mild obscenities; 3 scatological words; 2 anatomical terms; 4 F-Word derivatives.
Violence/Gore: An individual crashes a dirt bike and is mentioned to be bruised; an individual is reported to have passed away from a blood clot; an individual riding a motorcycle is temporarily pinned underneath the bike when it crashes.
Sex/Nudity: An affair is mentioned.
Mature Subject Matter:
Death.
Alcohol / Drug Use:
A teen is mentioned to smoke "shrooms"; a teen steals booze; a character is mentioned to smoke a pack a day; being "stoned" is referred to; being drunk is referred to.
Reviewed By Lydia