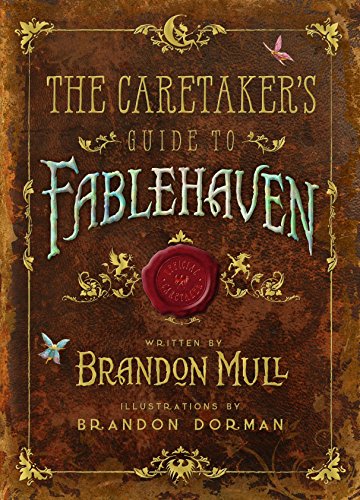 Publisher's Note:
This guidebook to the Fablehaven magical preserve is filled with everything a new Caretaker might need to know in order to survive. There are entries detailing important information about artifacts large and small, a complete bestiary of creatures (from fairies to trolls to satyrs), a guide to identifying demons, dragons, and wizards as well as valuable insights into the other magical preserves. Immerse yourself into the secret knowledge that has been handed down through the generations by reading the updates and notes written in the margins by the former Caretakers of Fablehaven, including Grandpa Sorenson, Kendra, and Seth. Fully-illustrated, this unique encyclopedia has gathered the world of Fablehaven into one volume.
This book was sent to Compass Book Ratings for review by Shadow Mountain
The Caretaker's Guide to Fablehaven
by Brandon Mull
Overall Review:
The Caretaker's Guide to Fablehaven transports readers back to the excitement and magical adventures of Brandon Mull's Fablehaven series. Not only are there plenty of familiar faces, but there are a few hints of the types of things readers can expect from Mull's new Dragonwatch series.
The pages are beautifully illustrated and have a great aged appearance. One of the fun and quirky features of the guidebook is the notes by Kendra and Seth as well as other Fablehaven favorites. After reading this book, there is an urge to reread the entire Fablehaven series.
The guidebook includes an index which allows readers to go directly to the page of interest. There are categories for all sorts of different creatures as well as interesting objects and notable locations. The great thing about this particular book is it is written with enough detail to interest those craving more knowledge, but also maintains a simplicity attractive to younger audiences. Looking forward to seeing what the new Dragonwatch series has to offer!
Review of a Digital Advance Reader Copy
Content Analysis:
Profanity/Language: None
Violence/Gore: Many references to objects and creatures containing magical qualities which allow them to kill or injure others, most are reports of capability not actual scenes and are not graphic.
Sex/Nudity: None
Mature Subject Matter:
None
Alcohol / Drug Use:
None
Reviewed By Susan