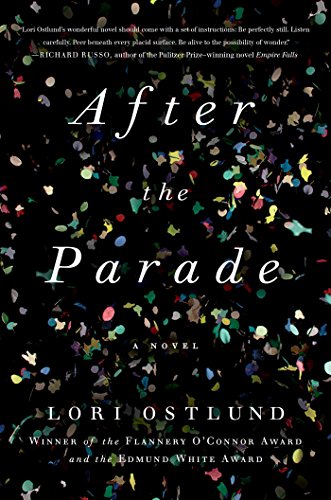 Publisher's Note:
From Flannery O'Connor and Rona Jaffe Award winner Lori Ostlund, a deeply moving and beautiful debut novel about a man who leaves his longtime partner in New Mexico for a new life in San Francisco, launching him on a tragicomic road trip and into the mysteries of his own Midwestern childhood.

Sensitive, big-hearted, and achingly self-conscious, forty-year-old Aaron Englund long ago escaped the confines of his Midwestern hometown, but he still feels like an outcast. After twenty years under the Pygmalion-like direction of his older partner Walter, Aaron at last decides it is time to stop letting life happen to him and to take control of his own fate. But soon after establishing himself in San Francisco—where he alternates between a shoddy garage apartment and the absurdly ramshackle ESL school where he teaches—Aaron sees that real freedom will not come until he has made peace with his memories of Morton, Minnesota: a cramped town whose four hundred souls form a constellation of Aaron's childhood heartbreaks and hopes.

After Aaron's father died in the town parade, it was the larger-than-life misfits of his childhood—sardonic, wheel-chair bound dwarf named Clarence, a generous, obese baker named Bernice, a kindly aunt preoccupied with dreams of The Rapture—who helped Aaron find his place in a provincial world hostile to difference. But Aaron's sense of rejection runs deep: when Aaron was seventeen, Dolores—Aaron's loving, selfish, and enigmatic mother—vanished one night with the town pastor. Aaron hasn't heard from Dolores in more than twenty years, but when a shambolic PI named Bill offers a key to closure, Aaron must confront his own role in his troubled past and rethink his place in a world of unpredictable, life-changing forces.

Lori Ostlund's debut novel is an openhearted contemplation of how we grow up and move on, how we can turn our deepest wounds into our greatest strengths. Written with homespun charm and unceasing vitality, After the Parade is a glorious new anthem for the outsider.
After the Parade: A Novel
by Lori Ostlund
Overall Review:
I will admit this book pulled me in solely because of the cover. Had I first read the back cover, I wouldn't have given this book a chance. I try not to be too snobby when it comes to books, but some things just don't interest me, and I know not to waste my time. This book was not a waste of time, In fact, I found myself enjoying it quite a lot.
Lori Ostlund did a spectacular job of taking one brief moment of time in her characters' lives, and turning it into the main storyline. One tragedy multiplies into many, but the reader can't see it until everything suddenly falls together. A book about a middle-aged man doesn't really sound that enticing to me, but when I looked beyond the outline of this book, I discovered a story that was heartfelt, happy, sad, and lovely.
This book is about estranged pasts, healing presents, and finding love and forgiveness in unlikely places. I think we can all use a little bit more of the last two things.
Review of Advance Reader Copy
Content Analysis:
Profanity/Language: 2 religious exclamations; 4 mild obscenities; 1 scatological word; 5 anatomical terms; 1 offensive hand gesture.
Violence/Gore: Boys are reported to have been beaten; a man hears a boy being beaten; a boy is found lying injured in one brief scene; a man hits another man in a brief scuffle; a boy is mentioned to be in a come as a result of an injury; a character speaks of fear of terrorists; a character falls a small distance and hits head, dies; a man spanks boys that are nude with a belt in one brief scene; a character is mentioned to shoot pesky squirrels; a character is mentioned to commit suicide; Satan is described to be talking to a character; sexual exploitation and violence are reported to have occurred in the army; a child is mentioned to have drowned; a character is mentioned to have hanged self.
Sex/Nudity: Sex is mentioned; gays are referred to; a man implies that pre-marital sex occurred; teen boys lose their virginity to each other, no detail is given; gay sex is mentioned to occur; prostitutes are mentioned to offer sex at a local establishment; two men have sex together in one brief non-descriptive scene; a nude man having sex is observed in one very brief mention; a man is said to buy a book with pictures of nude men in it; students (minors) are implied to be sexually active.
Mature Subject Matter:
Loss of a loved one, death, sex/gender identity issues, homosexuality, teenage sex, gay sex, suicide.
Alcohol / Drug Use:
An adult smokes; pot is mentioned; adults drink cognac; adults drink beer.
Reviewed By Lydia