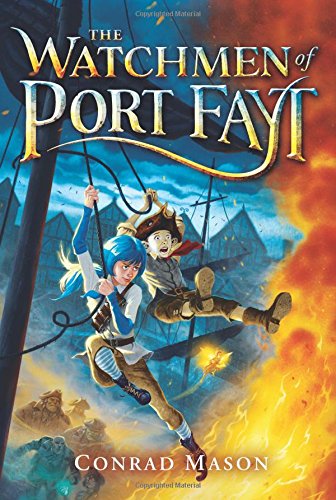 Publisher's Note:
A rip-roaring adventure full of pirates, magical creatures, and unlikely heroes!

Captain Newton and his men have always protected Port Fayt--a place where humans live in peace alongside trolls, elves, and fairies. But now Fayt is under threat from a much more powerful enemy--the League of Light, a group out to destroy all non-humans.

Half-goblin boy Joseph Grubb has only ever heard stories of Captain Newton and the Demon's Watch. Fed up of working at his uncle's tavern, Grubb dreams of escape--until a whirlwind encounter with a smuggler plunges him into Fayt's criminal underworld. There he meets the watchmen and learns of their mission to save the port. Can Grubb and his new allies uncover the dark plot in time, or will they end up as fish food in Harry's Shark Pit?

The first exciting book in the epic Tales of Fayt trilogy!
This book was sent to Compass Book Ratings for review by Scholastic
The Watchman of Port Fayt
by Conrad Mason
Overall Review:
Port Fayt is a shining beacon of acceptance and tolerance--at least, for the most part. A place that is open to creatures of all races, be they fair elf or lumbering ogre. However, evil forces from the Old World are amassing to destroy Port Fayt and its ideals of equality. All that is standing in their way are two orphans and a ragtag group of watchmen.
The Watchman of Port Fayt by Conrad Mason is a fun adventure filled to the brim with action, well-balanced with humor and heart. However, overall the story was a bit slow and lacked any urgency despite the mortal danger that the characters and city find themselves in. The characters were endearing and entertaining but were rather thin. Even with our two main characters, while they had similarly tragic stories, it was difficult to find any emotional connection to them. Mason did do a masterful job of dealing with complex civil rights issues throughout the book with great sensitivity and clarity, although it may go over the heads of younger readers.
On the whole, that story was reminiscent of a campfire story--entertaining and enjoyable but lacking any lasting impact.
Review of an Advance Reader Copy
Content Analysis:
Profanity/Language: None

Violence/Gore: Character nearly pulled over; character's feet hurt from walking; people are hurt and property damaged in several bar fights; troll nearly hits someone with a chair; many references to parents' deaths; character lead by the ear; many killed by magic-ed coin; character practices throwing knives; adolescents wrestle; boy chased by bullies; knife held to character's throat; character falls off roof and break limb; magic causes destruction of property; character falls through the air; adult threatens to throw group in shark pit; adult implies people could die; statue depicts human stabbing an ogre; girl tries to pull a knife on adult; character murdered; rumors of man collecting ogre heads; several references to genocide of non-humans; adult hits goblin boy upside the head; Mer-people forces to fight sharks to the death; many instances of implied violence; character thrown in shark pit; ; limb lost in shark attack; character stabs troll in the hand; character strangled with magic; fairy pokes character in the head; prisoner held over fire; witch throws character off a cliff; character wants to punch someone; character starts a bar fight; character falls to the ground; character shakes goblin by the collar; couple poisoned; references to dangerous sea creature; boy punches boy playfully; extended scene of gun/sword battle; witch holds boy by the throat; character is kidnapped; character thrown to the ground; fairy dissappointed people didn't die; character warned to not shoot himself accidentally; group storms mansion; characters shot; character's death implied; character dies; character tells witch her plan will kill them; adult restrains girl by the shoulders; character dragged into boat; extended sea battle; character tackles witch; character held by the throat; sea monster causes destruction; sea monster eats character; character thrown overboard
Sex/Nudity: Adults kiss; adults embrace.
Mature Subject Matter:
Death, war, racial tensions, genocide, murder.
Alcohol / Drug Use:
Many scenes of characters drinking/referring to drinking "grog".
Reviewed By Amberle