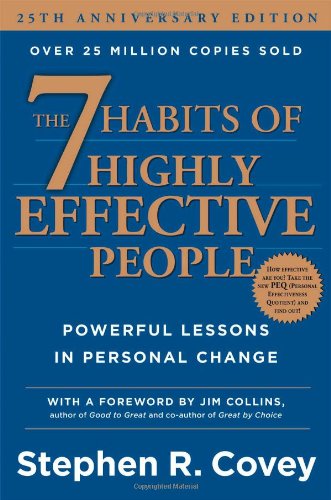 Publisher's Note:
CONSIDERED ONE OF THE MOST INSPIRING BOOKS EVER WRITTEN, The 7 Habits of Highly Effective People has guided generations of readers for the last 25 years. Presidents and CEOs have kept it by their bedsides, students have underlined and studied passages from it, educators and parents have drawn from it, and individuals of all ages and occupations have used its step-by-step pathway to adapt to change and to take advantage of the opportunities that change creates.
The 7 Habits of Highly Effective People
by Stephen R. Covey
Overall Review:
Jam-packed. With greatness. Every adult needs to read this book, and any mature teenager could benefit from it as well. If you are wondering how to make your life better, this is the self-help book that beats them all. Why? Because it attacks problems with principles that have been taught for at least thousands of years. In fact, if you are religious, many things might be familiar to you in this book. If you aren't religious, you will still find this book will help you because these principles are tried and tested.
Over 25 million copies have sold of this book, and there is a reason for that.
If you want to soak up this book better, I recommend you read the written version. If you prefer the audio version however, you might want to listen to it a couple of times in order to absorb everything. It is filled with so much vital information, and if you get distracted by anything while listening, you might miss something important. However, the audio version is a jewel because it is read by the author, Stephen R. Covey, who obviously does an excellent job narrating his own book.
Content Analysis:
Profanity/Language: None
Violence/Gore: A story of an adult who lived through the horrors of the Holocaust, graphic parts are brief.
Sex/Nudity: Sex is mentioned and alluded to a couple of times.
Mature Subject Matter:
Holocaust story, divorce, marital trouble, dishonesty.
Alcohol / Drug Use:
None
Reviewed By Amber