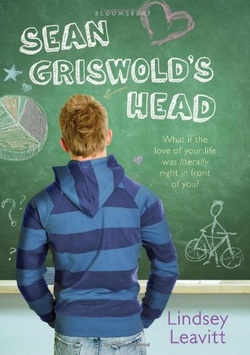 Publisher's Note:
According to her guidance counselor, fifteen-year-old Payton Gritas needs a focus object-an item to concentrate her emotions on. It's supposed to be something inanimate, but Payton decides to use the thing she stares at during class: Sean Griswold's head. They've been linked since third grade (Griswold-Gritas-it's an alphabetical order thing), but she's never really known him. The focus object is intended to help Payton deal with her father's newly diagnosed multiple sclerosis. And it's working. With the help of her boy-crazy best friend Jac, Payton starts stalking-er, focusing on-Sean Griswold . . . all of him! He's cute, he shares her Seinfeld obsession (nobody else gets it!) and he may have a secret or two of his own. In this sweet story of first love, Lindsey Leavitt seamlessly balances heartfelt family moments, spot-on sarcastic humor, and a budding young romance.
This book was sent to Compass Book Ratings for review by Bloomsbury Children's Books
Sean Griswold's Head
by Lindsey Leavitt
Overall Review:
I never would have thought that the back of someone's head would incite such an amazing story! While this book does have a lot of the high school crush/relationship aspects, there is so much more to it! I absolutely loved all the characters. All of them. Payton is uptight and confused and unable to communicate even with her love of organization and perfection. Sean is cute, sweet, understanding, thoughtful, and forgiving. Jac is hilarious and a perfect best friend for someone like Payton. Even Grady has his moments (complete with running makeup—and yes, the 'his' was not a typo, either). Payton's assignment is to find a focus object that will in some way help her deal with her newfound knowledge of her dad's disease (MS). What better object to focus on than something you see right in front of your face every day? Her focus journal entries are hilarious—from outlines to flowcharts, brainstorming word webs to topic questions, theories and analyses to pie charts. All about someone's head! I loved that her focus object was Sean's head, and that she honestly got to know him. So different from the 'he's really cute so I like him' normal teenage tendencies. The theme of focus doesn't end with just Sean's head, either. She learns to focus on change, on her family, on herself. She even focuses on learning to cycle—and I loved that! I loved going over mountains and through parks and races and crazy Spin classes with her. You could feel the breeze and smell the fresh air and drink in the scenery. Pure freedom! All of the focusing brings in such raw emotion and you are swept away dealing with the fears, the anxieties, the pressures (both real and imagined), and all the new and undiscovered feelings that we all come in contact with at one time or another. The author does a fabulous job dealing with MS—making it accessible without belittling it or downplaying any of the symptoms or effects. Lindsay Leavitt knows how to combine the elements of charged teenage emotions, multiple sclerosis, and some serious focus objects (aka psychology at its best) to make an absolutely amazing book that's not easy to put down nor forget! I loved this YA book that can be enjoyed by teens and adults alike.
Content Analysis:
While the profanity includes only three exclamations (of the 'oh my…' variety), be forewarned that teenage slang and euphemisms abound. Definitely easier on the ears (eyes?) than any real high school hallway, though!
There is no violence.
The sexual content is just a few innuendoes here and there: a mom turned partier after a nasty divorce because of infidelity, a mention or two of cleavage, students being silly in biology during a showing of a mating video (and requesting it later when there's a sub), etc. It's not part of the main plot line, but it's sprinkled in once in awhile.
Mature Subject Matter:
The theme is all about dealing with hard family/friendship issues (diseases, divorce, death, etc.) and all the emotions that go with it.
Alcohol / Drug Use:
***
Reviewed By Emily