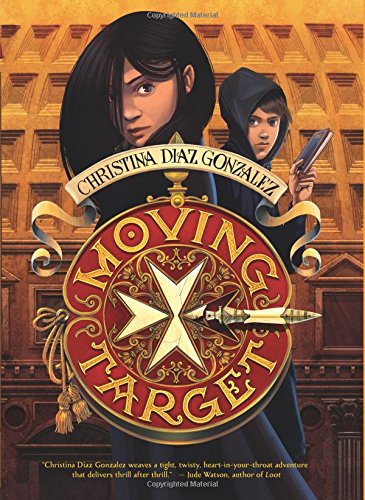 Publisher's Note:
In this exciting and action-packed adventure by an award-winning author, a young girl discovers her secret ancient bloodline. The fate of her family, and the world, may rest in her hands . . .

Cassie Arroyo, an American studying in Rome, has her world ripped apart when someone tries to kill her father, an art history professor at an Italian university. Is she their next target?

Cassie sets out to uncover what is happening, only to learn that she is a member of an ancient bloodline that enables her to use the Spear of Destiny--a legendary object that can alter the future. Now running from a secret organization intent on killing those from her bloodline, Cassie must--with the help of some friends--decipher the clues that will lead her to the Spear.

Christina Diaz Gonzalez has created a fast-paced thrill-ride of a book, rich with riddles and myth, that young readers will not want to put down.
This book was sent to Compass Book Ratings for review by Scholastic
Moving Target
by Christina Diaz Gonzalez
Overall Review:
Moving Target is the first novel in what appears to be the beginning of a series by Christina Diaz Gonzalez. Since this novel left off with a cliffhanger, hopefully there are more to come. The premise of the novel is exciting and action-packed, even if it isn't all that new of an idea: Young person finds out that they aren't really who they thought they were and that they hold the key to saving the world from something evil...all the while running away from those that are trying to control the world and therefore control them. While the plot seemed predictable, Moving Target was still an exciting read and had me reading to the end.
As exciting and action-packed as the novel Moving Target was as a novel, it was hard to really like the characters. Cassie, the main character, came across as weak and indecisive. She did slowly evolve throughout the novel, and hopefully she'll continue to grow throughout the series--however, it was hard to find her very likable in this one. Simone as a sidekick was by far the most annoying character I've come across in a while. For someone professing to be a sidekick and having the main character's back, she came across as whiney and not completely trustworthy. Asher, the one character linked in way other than friendship, was really the only likable one out of the three. All that being said, the development of a friendship between Asher and Cassie made the relationship among the three main characters bearable.
Ultimately, the novel Moving Target by Christina Diaz Gonzalez was an exciting enough read that I am looking forward to reading the next novel to see what happens and how the characters continue to evolve.
Content Analysis:
Profanity/Language: None
Violence/Gore: Characters shot at (4 times); character shot and sustains non-life-threatening injuries; mention of someone wanting to kill one of the characters (6 times); account of how a certain article was used to stab Jesus on the cross; secondhand account of someone wanting to kill most of the people on the earth; character is shoved by another and character uses defensive moves in return; account of how an organization kills innocent people to retain their power; characters tackle and hit a character that is threatening them; vehicle is vandalized and tires slashed; account of how an article can kill someone with a poison if taken off; secondhand account of 2 groups that would kill one another to keep the upper edge; character has a vision in which someone dies while in the hospital as well as seeing the death and destruction throughout a city that had an ambiguous cause; character taken by someone pointing a gun at them; character points a gun at another to disarm them; character discovered to be dead in a chair having a died from natural causes; character threatens another with a knife; character deliberately sets a fire in a dumpster; characters are threatened by someone with a gun who also ties them up so that they can't escape.
Sex/Nudity: None
Mature Subject Matter:
Death of parents.
Alcohol / Drug Use:
Man described as being drunk; drug used to revive someone from a coma in a non-medical setting.
Reviewed By Sally