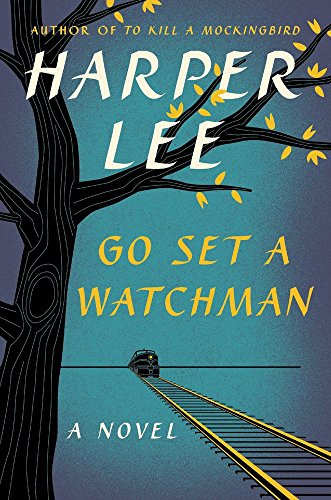 Publisher's Note:
From Harper Lee comes a landmark new novel set two decades after her beloved Pulitzer Prize–winning masterpiece, To Kill a Mockingbird.
Maycomb, Alabama. Twenty-six-year-old Jean Louise Finch—"Scout"—returns home from New York City to visit her aging father, Atticus. Set against the backdrop of the civil rights tensions and political turmoil that were transforming the South, Jean Louise's homecoming turns bittersweet when she learns disturbing truths about her close-knit family, the town, and the people dearest to her. Memories from her childhood flood back, and her values and assumptions are thrown into doubt. Featuring many of the iconic characters from To Kill a Mockingbird, Go Set a Watchman perfectly captures a young woman, and a world, in painful yet necessary transition out of the illusions of the past—a journey that can only be guided by one's own conscience.
Written in the mid-1950s, Go Set a Watchman imparts a fuller, richer understanding and appreciation of Harper Lee. Here is an unforgettable novel of wisdom, humanity, passion, humor, and effortless precision—a profoundly affecting work of art that is both wonderfully evocative of another era and relevant to our own times. It not only confirms the enduring brilliance of To Kill a Mockingbird, but also serves as its essential companion, adding depth, context, and new meaning to an American classic.
Go Set a Watchman
by Harper Lee
Overall Review:
Go Set a Watchman is the sequel/early-draft to To Kill a Mockingbird. As such, there were high expectations for this book. Unfortunately, those high expectations were not quite met. Harper Lee is a masterful writer, and portrayed her story well. However, the story was a bit of a disappointment.
Not only did many points of the plot differ greatly from To Kill a Mockingbird (which is forgivable, considering the way the books were both written and published in comparison to one another), there were other key differences as well. Firstl, the main characters were a disappointing group in Watchman. After being built up and characterized as admirable people in To Kill a Mockingbird, one did not expect to be let down by them in the new book. Second, the lessons Scout learned in this book just did not sit as well in a book that is supposed to be a sequel to such a classic. These "morals to the story" were disappointing as well. This is a good book to read if one is looking to satisfy curiosity, but don't start out hoping it will be quite the amazing story of To Kill a Mockingbird.
All this being said, there were many parts to the book that were fascinating and speak truth. There are some poignant scenes that were worth the read.
For any Reese Witherspoon fans, you will be happy to know that Witherspoon is the narrator to the audiobook. She does a fabulous job.
Content Analysis:
Profanity/Language: 13 religious exclamations; 14 mild obscenities; 5 religious profanities; 24 derogatory names; 1 anatomical term; 1 f-word derivative.
Violence/Gore: A young teen considers suicide; a car accident in which someone died is discussed; an adult slaps another adult across the face twice.
Sex/Nudity: A sexual innuendo is made; a woman considers the possibility of a future adultery; adultery is mentioned in gossip; a character refers to puberty; a child undresses to get in a small pond, non-sexual; adults kiss a couple times; a rumor circles about a couple swimming naked together; young teens kiss; young teens gossip about another young teen being pregnant; young teens speculate about how one gets pregnant, not graphic; an adult tells a child how a baby is made, not graphic; a young teen girl wears false breasts and has a couple conversations about them, non-graphic; a teen boy reaches down a girls dress and quickly takes out the young girl's fake breasts (the gesture in the book is kind and nonsexual).
Mature Subject Matter:
Racial conflict, gender conflict, death, death of a family member, considered suicide, unwanted pregnancy, marriage infidelity.
Alcohol / Drug Use:
Adults drink alcohol; adults smoke.
Reviewed By Amber