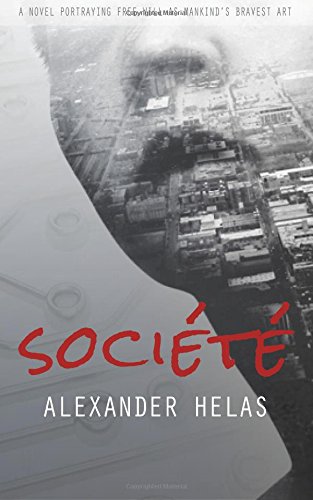 Publisher's Note:
A novel portraying free will as mankind's bravest art. Christian Matters is a neurotic twenty-nine year old architect living in Chicago, USA. After a bizarre episode throws him off his morning routine, he abandons his promising career, girlfriend, and home for a life-changing journey to San Francisco, where he meets a cavalier aristocrat named Lester Rothschild and his beautifully extravagant love, fortepianist Ella Athens. Mysterious and insane, Lester takes Christian on his adventure to open Société, the most luxurious entertainment complex at the heart of the world's richest city. But, with the chance meeting of an unlikely visitor and the sudden death of a lover, colliding events lead Christian to unravel the true ambitions behind the greatly anticipated opening of Société, and discovers the fate of something much greater is at stake. In his modern and magically profound debut novel, Alexander Helas delivers a masterful, thought-provoking vision on the struggle of free will at the hands of society's quest for progress.

For some we are heroes.
For others we are villains.
Tomorrow, we may become something else entirely.
This book was sent to Compass Book Ratings for review by Cadence Group
Société
by Alexander Helas
Overall Review:
Maybe I didn't "get" the depth of this book. Maybe I just wasn't in the right mood. Maybe I was looking for something lighter. I'm not sure the reason behind my not gobbling up this book, but something just felt off. Now that isn't to say that this book isn't worth the read; I just didn't enjoy it as much as I think I could have.
There was a really interesting twist to this book that made it feel a little like a dystopian novel, but then I told myself that wasn't possible! This book seemed so polished and precise, there was no room for imaginative futures--or maybe there was. Because the further into the story I read, the more I was convinced that this book was holding a completely different story. However, that story never really fully developed.
A part of this book I did enjoy was that much of it was set in Chicago. I also enjoyed the second half more than the first half; I'm not really sure why. I suppose that is how I felt about this whole book. I felt like I should have liked it, like there was an underlying story hiding somewhere, and like the characters didn't make sense but should have. I wish I knew someone who had read this book recently so I could chat a bit with them about it. So read this book and share your opinions. If you love it, shout it from the rooftops! If you didn't like it, tell somebody why.
Content Analysis:
Profanity/Language: 1 religious exclamation; 4 mild obscenities; 2 religious profanities; 4 derogatory names; 3 scatological words; 3 anatomical terms; 36 F-Word derivatives.
Violence/Gore: A character threatens to kill another character; a pet is mentioned to be found dead; a character is reported to have died in an accident; a violent rape is mentioned with no detail; a shipwreck is recounted with some brief detail; a fatal sickness is mentioned to have taken the life of a character; a character is killed under odd/suspicious circumstances, some brief mention of this is made; a character kills self as a sacrifice for someone else in one brief mention; a character is described to be struggling with a pursuer, one of them clubs the other on the side of the head; a threat is made with a gun; a character threatens to kill another if needed; a character falls a long distance and is presumed dead; a character is shot and killed, some blood drops and splatters are mentioned with very little description; a terrorist attack is suspected.
Sex/Nudity: A love affair is referred to; people referred to as "sexual creatures"; a man and woman are mentioned to kiss and flirt; a man and woman are described to kiss passionately; a man is mentioned to have lost his virginity; a man touches a woman in a sensual way; a man and woman make love in one very brief, non-descriptive scene; a man touches a woman's breast in one brief scene.
Mature Subject Matter:
Violence, divorce, personal crises, murder.
Alcohol / Drug Use:
Adults drink scotch; adults are described to be smoking several times; an alcoholic woman is referred to; schnapps is served to adults; wine is drunk; a character asks another character to "do drugs" with them.
Reviewed By Lydia