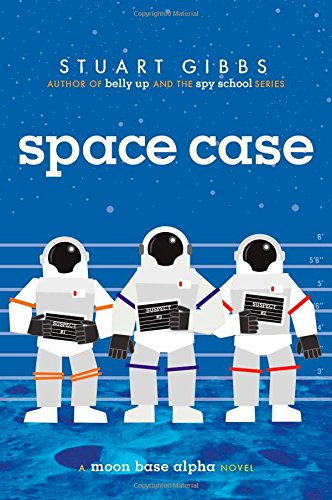 Publisher's Note:
It's a murder mystery on the moon in this humorous and suspenseful space adventure from the author of Belly Up and Spy School.

Like his fellow lunarnauts—otherwise known as Moonies—living on Moon Base Alpha, twelve-year-old Dashiell Gibson is famous the world over for being one of the first humans to live on the moon.

And he's bored out of his mind. Kids aren't allowed on the lunar surface, meaning they're trapped inside the tiny moon base with next to nothing to occupy their time—and the only other kid Dash's age spends all his time hooked into virtual reality games.

Then Moon Base Alpha's top scientist turns up dead. Dash senses there's foul play afoot, but no one believes him. Everyone agrees Dr. Holtz went onto the lunar surface without his helmet properly affixed, simple as that. But Dr. Holtz was on the verge of an important new discovery, Dash finds out, and it's a secret that could change everything for the Moonies—a secret someone just might kill to keep...
Space Case
by Stuart Gibbs
Overall Review:
Space Case was an enjoyable read. The author had clearly done a lot of research to write the book, and that the scientific descriptions seemed to be very thorough. For readers who like science or space ships, the book will be particularly interesting. As a bonus, the book was also a well-written mystery novel. The author did an excellent job of leading the reader on and giving the reader clues to solve the mystery. It is not Agatha Christie, but the version of Agatha Christie for twelve year olds (or younger readers--if they can navigate the scientific descriptions). All of the characters are well-formed and diverse, which is especially important since the novel takes place in a moon base, which means the author can't easily introduce new characters. Overall, Space Case is a fun adventure for middle school readers who love mystery and science.
Content Analysis:
Profanity/Language: None
Violence/Gore: Several characters threaten each other; one characters turns up dead but with no details; there is a fight in a gym where some characters are injured with bloody noses, etc.; some characters are almost killed by a robotic arm.
Sex/Nudity: A male character suggests to another male character that they watch a female character undress via security camera (Suggestion not followed).
Mature Subject Matter:
None
Alcohol / Drug Use:
None
Reviewed By Jackson