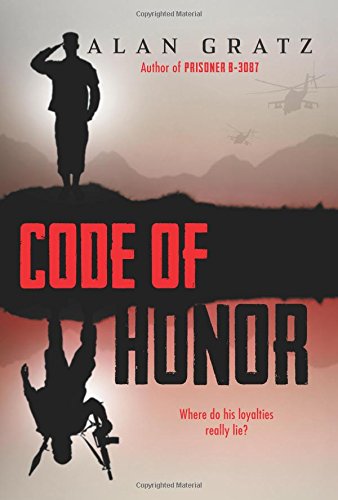 Publisher's Note:
From the acclaimed of author of Prisoner B-3087, a timely, heart-racing action-adventure about the War on Terror -- and the bond between brothers.

Kamran Smith has it all. He's the star of the football team, dates the most popular girl in school, and can't wait to enlist in the Army like his big brother, Darius. Although Kamran's family hails from Iran, Kamran has always felt 100% American. Accepted.

And then everything implodes.

Darius is accused of being a terrorist. Kamran refuses to believe it, but the evidence is there -- Darius has been filmed making threats against his country, hinting at an upcoming deadly attack. Kamran's friends turn on him -- suddenly, in their eyes, he's a terrorist, too.

Kamran knows it's up to him to clear his brother's name. In a race against time, Kamran must piece together a series of clues and codes that will lead him to Darius -- and the truth.

But is it a truth Kamran is ready to face? And is he putting his own life at risk?
This book was sent to Compass Book Ratings for review by Scholastic
Code of Honor
by Alan Gratz
Overall Review:
ALA award winning Young Adult author Alan Gratz, hits another one out of the ballpark with his latest novel, Code of Honor. Alarmingly relevant and gripping with adventure, this action-packed narrative will inevitably excite as well as provoke reflection on integrity, courage, and freedom.
What is the bond of brotherhood compared to the loyalty to your beliefs and country? All-American teenager Kamran Smith is about to find out when his older brother is accused of terrorist activity.
With an intense introduction, readers will be hooked,
"A few days ago, all I had cared about was winning the homecoming game. Getting into college. Going on a date with Julia Gary. Normal high school senior stuff. A few days ago, I had been king of the world.
Now I was a prisoner of the United States of America."
Not everything is quite believable, but hey, it's fiction so why not play around with outrageous enactments? What is very believable is character dynamics and their reactions, particularly in regards to race, support, and judgment.
Gratz is able to strike an excellent balance of fictitious thrill as well as applicable events that could be ripped from the headlines, to create an enterprising novel for young adults, especially those interested in military thrillers with familial aspects.
"Where do his loyalties really lie?"
Content Analysis:
Profanity/Language: 8 religious exclamations; 3 mild obscenities.
Violence/Gore: Brief report of character beating up neighborhood children in defense of brother as a child; group fight incurring minor injuries; report of terrorist attack resulting in mass death; threat of more terrorist attacks; characters tackle at football practice; characters fight, punching one another; news report of a beheading; secondhand report of a suicide bomber killing civilians; report of deaths during military raid; character hits two other characters; character starts a fire in the microwave; character is punched; characters exchange gunfire, character is shot and wounded; report of drone strike meant to kill terrorist and a terrorist attack that killed people; characters are shot at; wall is blown out with explosives; character is threatened with family member's kidnap and murder; character is shot dead, blood mentioned, non-descriptive; gunfire exchanged; character tries to hit attackers with object; characters struggle over gun, character is shot dead blood mentioned, non-descriptive; (non-detailed) character shot dead; character is shot at; building explodes, no report of casualties; characters spar; mention of guards being knocked unconscious 3x; explosives go off and characters exchange gunfire; character must step over dead bodies; extended scene (about 1 page) characters exchange gunfire; extended scene (about 1 page) characters fight, wrestle, kick, hit; (non-detailed) character is shot dead; (non-detailed_ character is shot dead, blood mentioned; character holds gun against character's head and threatens to shoot; characters struggle over gun, threaten to kill; character shoots another character in self-defense; character is knocked unconscious; terrorist begins shooting in crowd; character knocks another character over the head, then characters struggle over gun; bomb explodes, shrapnel causes minor injuries; character shoots to kill; extended scene (about 1 page) character fights another character, pushes them down the stairs.
Sex/Nudity: Characters kiss and dance closely; characters kiss and embrace; characters kiss; report of kiss.
Mature Subject Matter:
Racism, prejudice, terrorism/radical Islamic beliefs, war on terror.
Alcohol / Drug Use:
Mention of being kicked out of the armed forces for drug use; character admits to drinking and self-medicating with prescription drugs.
Reviewed By MaryLou