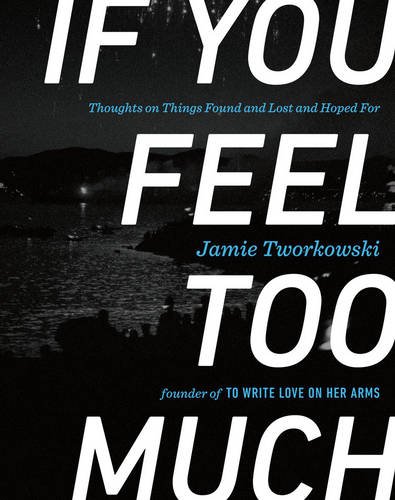 Publisher's Note:
In 2006 Jamie Tworkowski wrote a story called "To Write Love on Her Arms" about helping a friend through her struggle with drug addiction, depression, and self-injury. The piece was so hauntingly beautiful that it quickly went viral, giving birth to a non-profit organization of the same name. Nine years later, To Write Love on Her Arms (TWLOHA) is an internationally-recognized leader in suicide prevention and a source of hope, encouragement, and resources for people worldwide.

Jamie's words have been shared hundreds of thousands of times online. They've shown up on T-shirts and posters and even tattoos. Now, for the first time, Jamie's writing is available in the form of a book. If You Feel Too Much is a celebration of hope, wonder, and what it means to be human. From personal stories of struggling on days most people celebrate to offering words of strength and encouragement in moments of loss, the essays in this book invite readers to believe that it's okay to admit to pain and it's okay to ask for help. If You Feel Too Much is an important book from one of this generation's most important voices.
If You Feel Too Much: Thoughts on Things Found and Lost and Hoped For
by Jamie Tworkowski
Overall Review:
I was unaware of If You Feel Too Much's interesting format before I began reading. At first, I was a little confused, assuming it was almost supposed to be a day-by-day sort of thing, but upon further reading, I realized that the book is mostly a compilation of posts on a blog. I love to read blogs, so this book was perfect for me. I liked the way Jamie articulated his thoughts and feelings so well, even in short little bits of text.
While reading this book I found myself writing down little quotes and page numbers to go back to later. I felt the urge to underline and highlight. I wanted to share all of the wisdom and love that abounded within the covers of this little book. I stopped myself from marking the book up so I can pass it along to someone else to enjoy, but I may just have to buy a copy for my own personal use.
This book is quite powerful, and I know that even if I were not aware of the organization "To Write Love On Her Arms" before I read it, this book would make me go right to the website and look into what it is all about. I have struggled with depression and other issues, and this book really inspired me in many ways. I have no doubt it can do the same for other readers.
Content Analysis:
Profanity/Language: 1 religious exclamation; 7 scatological words; 2 F-Word derivatives.
Violence/Gore: A person is mentioned to die in a car crash.
Sex/Nudity: Porn is mentioned as a coping mechanism; a woman is pregnant and unmarried; sexual abuse is referred to.
Mature Subject Matter:
Cancer, self-harm, suicide, death, depression, pregnancy out of wedlock, personal crisis.
Alcohol / Drug Use:
Coke, pot, pills, and alcohol mentioned as a woman's coping mechanisms; an adult smokes cigarettes; a drug overdose is mentioned.
Reviewed By Lydia