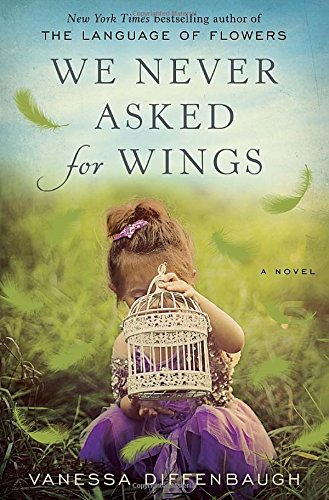 Publisher's Note:
From the beloved New York Times bestselling author of The Language of Flowers comes her much-anticipated new novel about young love, hard choices, and hope against all odds.

For fourteen years, Letty Espinosa has worked three jobs around San Francisco to make ends meet while her mother raised her children—Alex, now fifteen, and Luna, six—in their tiny apartment on a forgotten spit of wetlands near the bay. But now Letty's parents are returning to Mexico, and Letty must step up and become a mother for the first time in her life.

Navigating this new terrain is challenging for Letty, especially as Luna desperately misses her grandparents and Alex, who is falling in love with a classmate, is unwilling to give his mother a chance. Letty comes up with a plan to help the family escape the dangerous neighborhood and heartbreaking injustice that have marked their lives, but one wrong move could jeopardize everything she's worked for and her family's fragile hopes for the future.

Vanessa Diffenbaugh blends gorgeous prose with compelling themes of motherhood, undocumented immigration, and the American Dream in a powerful and prescient story about family.
This book was sent to Compass Book Ratings for review by Ballantine Books
We Never Asked for Wings
by Vanessa Diffenbaugh
Overall Review:
In Vaness Diffenbaugh's second novel, We Never Asked for Wings, she once again gives voice to the vulnerable and disadvantaged individuals in society, but this time instead of looking at the world of foster care, she delves into the economically disadvantaged immigrant--both illegal and legal. The author asks a lot of the reader at first; in particular, patience with an unlikeable character, Letty. However, this gives the character room to grow and eventually the reader can't help starting to pull for and empathize with Letty. It also takes a bit of reading to understand that ultimately this isn't a story just about Letty, or about her son, Alex; it is a story about a family. The reader can't help but feel that the author really did her homework in order to capture the desperation of the characters' situations. This is a novel one must read to the last page before any sense of resolution is reached and even then, it isn't tied up neatly in a bow. Ms. Diffenbaugh likes to keep it real and that she does!
Fans of her debut novel, The Language of Flowers, will mostly be satisfied with this work, and We Never Asked for Wings is good evidence that Ms. Diffenbaugh is emerging as a reliable and insightful author of contemporary literature.
Content Analysis:
Profanity/Language: 14 religious exclamations; 1 mild obscenities; 1 scatological word; 5 F-word Derivatives.
Violence/Gore: Report of burning arm; report of accident; character feels threatened by guy at a gas station and flees; character falls and is injured, blood mentioned; report of death in car accident; report of character fighting with others and being injured; report of cut from barbed wire; mention that a character considered abortion; report of a drunk grandfather falling on a baby and crippling it; character injures shins.
Sex/Nudity: Reference to sex; children were born out of wedlock and don't know who father(s) are; characters kiss upon different occasions; report of breast flashing; reference to "trolling"; teenage characters kiss and one thinks about removing shirt; adult character recalls (non-detailed) that she was 16 when she first had sex; teenage boy gropes his girlfriend's breast; character massages another characters shoulders; adult reports he had sex as an 18 year old with a much older, married woman (non-detailed); adults kiss passionately; ~2 page scene in which teenagers undress and beginning heavy petting and foreplay with some description of specific actions (ultimately they stop and do not engage in sexual intercourse); teenage girl sits in boys lap and at other times straddles his lap; reference to "get into my pants"; character places another character's hand on his bare stomach.
Mature Subject Matter:
Child abandonment, teenage pregnancy, childbirth out of wedlock/unwed mothers, illegal activity, illegal immigrants, immigrant issues, poverty, economic disparity.
Alcohol / Drug Use:
Adults drink frequently; one adult is often drunk; mother and fifteen year old son mix drinks together and become drunk; character is a bartender and there are several scenes where the character works--plus, talking about different drinks and how to mix them; minor drinks champagne; teenager drinks an entire bottle of tequila (possible suicidal intentions?).
Reviewed By Cindy