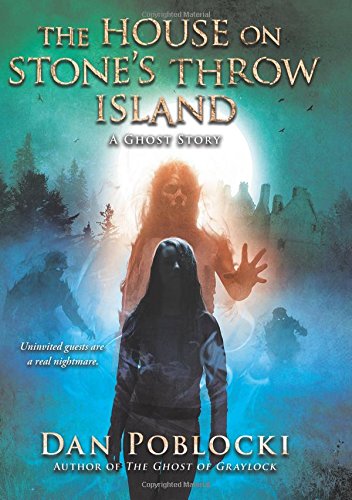 Publisher's Note:
A remote island is haunted by wedding crashers from beyond the grave.

Dan Poblocki is back with a new spooky ghost story perfect for fans of Mary Downing Hahn and John Bellairs.

There is an island, far off the coast of Maine, where the ghosts of the past are restless.

Josie Sandoval and Eli Barker are strangers when they board the ferry to Stone's Throw, traveling to the isolated island for a wedding. Then an immense storm blows in, and the wedding party is left stranded with no way to contact the mainland... and no idea that they have been targeted for revenge by the undead. The only clues to the danger they're in are a scrap of an old Nazi uniform -- and an unfamiliar voice, crying out for help in German...
This book was sent to Compass Book Ratings for review by Scholastic Press (A Scholastic Imprint)
The House on Stone's Throw Island
by Dan Poblocki
Overall Review:
Weddings are joyous occasions, looked forward to with great anticipation, except when you are the much younger siblings of the bride and groom, of course. After a bumpy start Josie and Eli find some solace in the fact that neither of them really want to be at the wedding, but when the weekend turns into a true nightmare it's up to them to try and save their families.
Despite a somewhat slow beginning The House on Stone's Throw Island is an intense and, at times, truly frightening tale. The two main characters Josie and Eli are unlikely, and occasionally humorous, allies. Their unique and believable personalities complement each other perfectly and serve as an anchor for the reader; providing a strong reality to juxtapose against the supernatural events that unfold around them. Poblocki's story is full of fabulous twists that keep the reader engrossed in the story, and it also displays a masterful use of foreshadowing to prepare the reader for several of the darker elements of the story. The House on Stone's Throw Island is a spine-tingling thriller that captivates the reader and leaves them wanting more.
Content Analysis:
Language/Profanity: 2 religious exclamations.
Violence/Gore: Reference to future destruction and death; adolescent nearly hit by a golf cart; references to cannibal family; adolescent fears twisting an ankle; adolescent falls on rocks; adolescent hears voices screaming for help; adolescent falls on stairs; many scary scenes involving voices and disappearing persons; adult threatens adolescents with a knife; adult becomes violently angry; people must search for a boat in violent weather; adult is almost strangled; adult is hit by a lamp; allusion to a person's death; a tree falls through a house; adult is beaten; people are drowned; adult smacks another adult; adult places adolescent in a headlock; adolescent and adults are locked in a cell; adult warns of danger from rocks; adolescent head butts adult; adolescent nearly drowns; adult knocks other adults to the ground; adult offers to sacrifice self; group fears drowning; boat capsizes; adults lost at sea; adolescent worries about being crushed; adults join the crew of a ghost ship, resulting in deaths; ghost tries to get adolescents to push adult overboard; pursuit by ghosts; vehicle crashes on shoreline; adult suffers a stroke.
Sex/Nudity: Engaged adults hug and kiss.
Mature Subject Matter:
Death, espionage, ghosts/paranormal, revenge.
Alcohol / Drug Use:
Adults drink champagne in celebration.
Reviewed By Amberle