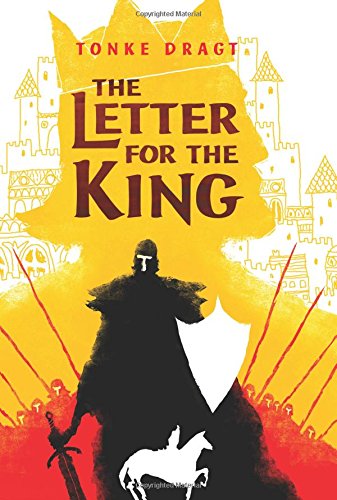 Publisher's Note:
The thrilling story of one boy's battle against evil set in an enchanted world of chivalry, courage, and true friendship

Sixteen-year-old Tiuri must spend hours locked in a chapel in silent contemplation if he is to be knighted the next day. But as he waits by the light of a flickering candle, he hears a knock at the door and a voice desperately asking for help.

A secret letter must be delivered to King Unauwen across the Great Mountains--a letter upon which the fate of the entire kingdom depends. Tiuri has a vital role to play, one that might cost him his knighthood. He must trust no one. He must keep his true identity secret. Above all, he must never reveal what is in the letter . . .

Tiuri's journey will take him through dark, menacing forests, across treacherous rivers, to sinister castles and strange cities. He will encounter evil enemies who would kill to get the letter, but also the best of friends in the most unexpected places.
This book was sent to Compass Book Ratings for review by Scholastic
The Letter for the King
by Tonke Dragt
Overall Review:
It took more than 50 years for Tonke Dragt's classic The Letter for The King to be translated and published in English, but the journey is well worth the wait for those who love a traditional tale of good versus evil.
Set in a mythical kingdom during the medieval time period, readers are introduced to young male protagonist Tiuri. An adolescent of no great importance until he is tasked with a mission that will take him on an epic expedition from his home of Dagonaut into the kingdom of Unauwen. Encountering dangers, detours, and dilemmas, Tiuri comes to know the true meaning of friendship, honor, and trust.
Tiuri's journey is a long one, coming in at 500+ pages. The map at the beginning of the novel is a useful way for readers to track all the happenings. A bit arduous at times, as readers may wonder what other obstacles Tiuri could possibly encounter (as there are many), but readers are encouraged to keep with it as the novel has a graceful conclusion and lovely moral.
Although the storytelling is charming, I couldn't help but feel that at times it missed the mark, but I think that has more to do with things getting lost in translation and does not reflect the writing quality of the author.
A wonderful fable for older children (age 11-14) or younger children who enjoy chapter reading with an adult (age 8-10) The Letter for the King is a classic tale with valiant knights, scheming villains, and a secret mission.
Content Analysis:
Profanity/Language: 4 religious exclamations.
Violence/Gore: Wounded character reports that he/she's been attacked, blood mentioned; character threatens to chop off another character's finger; thieves threatened with the prospect of death for their crimes; extended scene (about 2 paragraphs) sword fighting; character shares secondhand knowledge of feuds and fighting in distant lands (about 2x); extended scene (about 1 page) attack with swords and wrestling, character wounded; report of deaths and non-life-threatening injuries; character admits to being hired to kill another character and killing others in the past; threats of death (about 4x); character wounds another character; characters happen upon a murder victim; report of character being threatened and shot at; extended scene (about 1 page) characters engage in physical violence, character is wounded; secondhand report of murder; threat of murder.
Sex/Nudity: Characters remove clothes to bathe (non-descriptive); characters remove their wet clothes to dry.
Mature Subject Matter:
Murder, threat of murder, conspiracy.
Alcohol / Drug Use:
Teenagers drink wine and beer with meals, as is the custom for the time period.
Reviewed By MaryLou