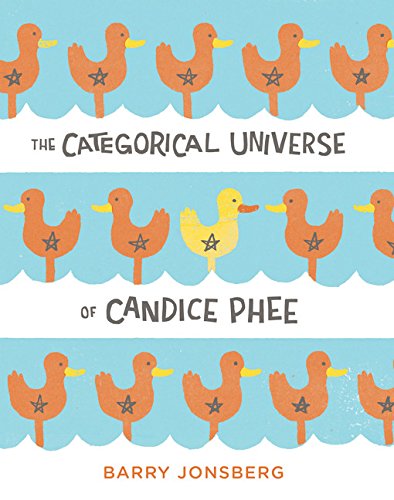 Publisher's Note:
Candice Phee isn't a typical twelve-year-old girl. She has more than her fair share of quirks, but she also has the very best of intentions and an unwavering determination to make sure everyone around her is happy—which is no easy feat when dealing with a pet fish with an identity crisis, a friend who believes he came from another dimension, an age-old family feud, and a sick mom. But she is on a mission. Her methods might be unique, but Candice will do whatever it takes to restore order to her world and make sure everyone is absolutely, categorically happy again.
The Categorical Universe of Candice Phee
by Barry Jonsberg
Overall Review:
Candice Phee is a wonderful protagonist! She is so completely without guile and so completely literal that she is hilariously quirky. One can't help but smile as she plows through her life and problems with fierce determination. Author Barry Jonsberg perfectly voices Candice. This book is set in Australia and would be a great fit for readers similar in age to the protagonist (12-13). A relatively short book, The Categorical Universe of Candice Phee, is ultimately a hopeful one.
This novel brings to mind Out of My Mind by Sharon Draper, but not because it is similar in tone. Rather, it is a poignant look into the mind and life of an individual with a condition that is often misunderstood. Take a walk in Candice Phee's shoes--you won't be disappointed.
Content Analysis:
Profanity/Language: 1 religious exclamation; 4 mild obscenities; 2 derogatory names.
Violence/Gore: Character is accidentally hit in head with flying projectile; character hits head with minor injuries; report of accident in which serious injury was sustained; character jumps and hits head; report of crashing on bike, no serious injuries.
Sex/Nudity: Character worries that she is "flat-chested"; character says another has "boobs"; boy gives a girl fake breast as a gift because he knows she is concerned about being flat-chested; characters kiss; characters kiss with mention of using tongue; characters hold hands; some innuendo.
Mature Subject Matter:
Depression, SIDS, bullying, autism, family crisis, mental injury/handicap, economic disparity.
Alcohol / Drug Use:
Adults drink socially and with dinner; a girls says her mom is a drunk.
Reviewed By Cindy