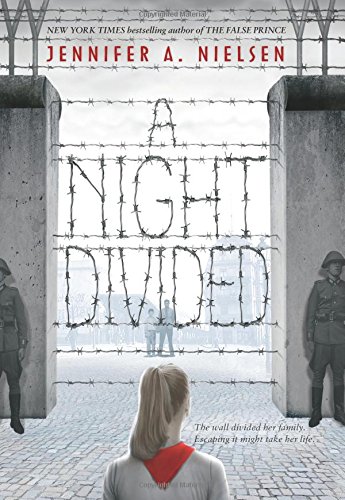 Publisher's Note:
From NYT bestselling author Jennifer A. Nielsen comes a stunning thriller about a girl who must escape to freedom after the Berlin Wall divides her family between east and west.

With the rise of the Berlin Wall, twelve-year-old Gerta finds her family suddenly divided. She, her mother, and her brother Fritz live on the eastern side, controlled by the Soviets. Her father and middle brother, who had gone west in search of work, cannot return home. Gerta knows it is dangerous to watch the wall, to think forbidden thoughts of freedom, yet she can't help herself. She sees the East German soldiers with their guns trained on their own citizens; she, her family, her neighbors and friends are prisoners in their own city.

But one day, while on her way to school, Gerta spots her father on a viewing platform on the western side, pantomiming a peculiar dance. Then, when she receives a mysterious drawing, Gerta puts two and two together and concludes that her father wants Gerta and Fritz to tunnel beneath the wall, out of East Berlin. However, if they are caught, the consequences will be deadly. No one can be trusted. Will Gerta and her family find their way to freedom?
This book was sent to Compass Book Ratings for review by Scholastic
A Night Divided
by Jennifer A. Nielsen
Overall Review:
It is not often that a book hits a personal note, or that I feel the need to make the review more personal, but that happens to be the case with the latest novel from Jennifer Nielson, A Night Divided. Not only is this historical fiction novel a poignant account of the fact that freedom is a precarious yet precious gift, but it also tells the account about a family divided by an actual physical wall. This is something that as an exchange student in Germany, just after the Wall came down, I was able to witness in a way. Not only was I able to witness the effects that the Wall had on the German people, but I received a firsthand account on the personal effect it can have on a family divided. My host father lived the story that is told in A Night Divided. He escaped to West Germany as a teenager while the rest of his family stayed behind to await the birth of his niece. Unfortunately, the Wall was built before they were able to follow. Having this as part of my history helped me to appreciate this novel even more.
It is a simple story, but a good reminder of the price of freedom and Nielson does an excellent job in crafting a story that is not only realistic, but touching as well. Included in the book are a few pictures to create a visual and each chapter starts with a very relevant quote or saying. Added to the overall package is the cover art and visual reminder at the beginning of each chapter. This novel is not only well-written, but well packaged, which makes it a pleasant and moving read in many ways.
The story is about twelve year old Gerta, whose family ends up being divided by the beginnings of the Berlin Wall. Four years is how long it takes for her family to do something about being reunited. During that time those that are on the Eastern side need to learn to deal with the secret police and trying to keep things normal while wondering what the other half of their family is doing. Life, however, is far from normal for Gerta and life is about to change as she sees her father and brother for the first time in four years. This brings up many questions for her and many choices she now has to face. This is where the story becomes one of bravery and love. For a historical novel, A Night Divided is an excellent account of a relevant time in history that might normally be overlooked. For a personal account of what it takes to be brave and the meaning of freedom, this story is moving and well-told and matches the feelings that were expressed by those I talked with in Germany.
While told from a girl's perspective, this novel would surely appeal to boys as well. Hopefully all who read it will take a look at the freedoms they enjoy and see not only how lucky they are, but how precious a gift it is, because that is one of the lessons to be learned from this wonderfully moving novel. And while this deals with some mature content when it comes to the violence that came with the Wall being built, it is dealt with in an age appropriate way.
Content Analysis:
Profanity/Language: None
Violence/Gore: Mention of a character leaping to her death in an attempt to escape; 4 different accounts of soldiers pointing a gun at a child; mention of people being killed for trying to escape; mention of how soldiers are ordered to shoot to kill anyone attempting to escape; mention of border guards carrying dead bodies away from the border; secondhand account of how someone that was trying to escape was shot in the back and died; description of how someone's room was ransacked by soldiers; mention of someone having a bruise on their face from someone having hit them; firsthand account of someone being beaten by soldiers with description of character bleeding because of injuries and then being taken away by force; soldier shoves child against the wall in a threatening way; girl kicks boy in the shins; soldier tells 2 kids he is authorized to shoot them if he chooses to; description of dead man being carried out on a gurney; soldiers shoot boy in the leg; soldiers shoot at man killing him; 7 page account of an attempted escape while being chased by soldiers.
Sex/Nudity: None
Mature Subject Matter:
Death, tyrannical government, family crisis.
Alcohol / Drug Use:
Man smokes cigarette.
Reviewed By Sally