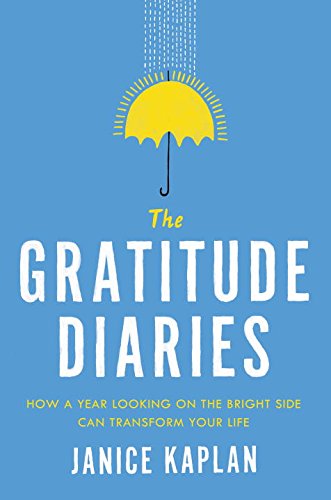 Publisher's Note:
In this inspiring memoir backed by pioneering research, Janice Kaplan spends a year living gratefully and gains a fresh outlook that transforms her marriage, family life, work, health, and every day experience.

On New Year's Eve, journalist and former Parade editor in chief Janice Kaplan makes a promise to be grateful and look on the bright side of whatever happens. She realizes that how she feels over the next months will have less to do with the events that occur than her own attitude and perspective. Getting advice at every turn from psychologists, academics, doctors, and philosophers she brings readers on a smart and witty journey to discover the value of appreciating what you have.

Relying on both amusing personal experiences and extensive research, Kaplan explores how gratitude can transform every aspect of life including marriage and friendship, money and ambition, and health and fitness. She learns how appreciating your spouse changes the neurons of your brain and why saying thanks helps CEOs succeed. Through extensive interviews with experts and lively conversations with real people including celebrities like Matt Damon, Daniel Craig, and Jerry Seinfeld, Kaplan discovers the role of gratitude in everything from our sense of fulfillment to our children's happiness.

With warmth, humor, and appealing insight, Janice's journey will empower readers to think positively and start living their own best year ever.
The Gratitude Diaries: How a Year Looking on the Bright Side Can Transform Your Life
by Janice Kaplan
Overall Review:
When I began this book, I was expecting a good non-fiction read--one that might inspire me to live more meaningfully and happily. I think I found what I was looking for, and more. The author does a lovely job of writing about how her intention to live with an attitude of gratitude helped her feel more fulfilled in her marriage, her friendships, and her career.
Even if you are perfectly happy with the life you are leading, this book would be a good one to keep on your radar as a potential read. I wouldn't say that I am any more unsatisfied than the first person that pops into my mind, but I still felt like I took away a lot of inspiration from this book. This would be a perfect book to read to inspire you at the end of the year, as a boost for your New Year's Resolutions, so don't feel bad if you aren't able to read it until then.
If you read The Happiness Project by Gretchen Rubin, this book is a great one to remind you of the ways one person can change their life, just by making little changes over a span of time. This is a book I would highly encourage everyone to consider reading at some point.
Review of Advance Reader Copy
Content Analysis:
Profanity/Language: 2 mild obscenities; 1 anatomical term; 1 F-Word derivative.
Violence/Gore: A car crash is mentioned to have occurred, bloody wounds mentioned; a man is said to be lucky to be alive after a car crash that could have been deadly; dire circumstances in other countries are briefly described.
Sex/Nudity: A woman is referred to as "hot"; a man is mentioned to have cheated on his wife; a husband smooches his wife on the cheek; a husband and wife kiss on the lips; a woman observes that women are walking topless in public.
Mature Subject Matter:
Cancer, divorce, suicidal thoughts, poverty, bullying.
Alcohol / Drug Use:
Adults drink champagne; drug use is mentioned among adults; an adult is mentioned to turn to drugs and alcohol; adults drink scotch and wine; good wine is referred to; drunk driving is mentioned to occur.
Reviewed By Lydia