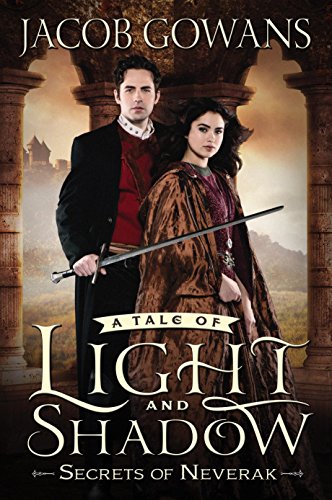 Publisher's Note:
Henry Vestin always believed that, despite being a carpenter with no training in swordplay or survival, he could lead Isabelle and his friends to safety. He thought he could defy an emperor and protect Isabelle from harm. He was certain that love and friendship would help them survive.
He was wrong.
The second volume in the Tale of Light and Shadow series follows Henry and his friends after the disastrous battle at the Iron Pass. Horrors await the band of travelers in strange new lands. Crippled and broken, Henry must rely on his friends more than ever. New allies and foes find them at every turn, but which are friendly and which are deadly? Isabelle, now a slave in Neverak, finds herself surrounded by enemies, uncertain about the fate of her friends, and relying on only herself to survive. The Emperor moves forward with his plans of conquest, spurred on by the Seer's dark prophecy, but he has not forgotten those who defied him.

Return to the world of Atolas, where swords and daggers extend life or end it, where feuds and friendships influence kingdoms and courtships, and where magic is feared by all but a few.
This book was sent to Compass Book Ratings for review by Shadow Mountain
Secrets of Neverak (A Tale of Light and Shadow)
by Jacob Gowans
Overall Review:
Continuing the series of A Tale of Light and Shadow, Jacob Gowans did an amazing job with Secrets of Neverak. I found it to be even more enjoyable than the first book with its action, suspense and intrigue. Along with a great plot, the characters were perfectly written, and I love the way their lives were interwoven. The reader will be laughing with the sarcastic and witty storyteller, laughing at the germ phobic emperor, and cringing whenever the vindictive bounty hunters are involved. Gowans even threw in a little love triangle to hook those who enjoy some romance in their stories. The foreshadowing that occurs at the end of the story made me really excited for the next book. This series will be enjoyed by those who like fantasy, sword fighting, and a little humor all rolled into one tremendous book.
Content Analysis:
Profanity/Language: 1 mild obscenity; 2 derogatory names.
Violence/Gore: Many (79) brief incidents including an inn called "Decapitated Horse"; verbal threats; warning of potential death; character is going to kill another; potential to kill someone; desire to hurt someone; suicide contemplated; people might light building on fire; promise to pay someone if they'll kill characters; discussing war; character sees visions of people getting hurt and about to die; several secondhand reports of death; reference to attempted murder; reference to characters "brawling"; story of character getting decapitated; secondhand report of character having hand cut off; reference to one character cutting out tongue, another stabbing eye and another cutting off ear; secondhand report of execution; reference to child abuse; secondhand report that character slapped another's face; secondhand report of character getting hit by father; reference to beheadings; secondhand report of girls getting smuggled and killed; reference of characters getting hanged; secondhand report of character getting hit and raped; character receives stitches; characters have items thrown at them (not injured); character has knife at throat and receives small cut; characters hit and punch; character gets spit on and kicked; character receives small cut on hand; characters are bleeding from eyes and ears; character hits head and passes out; trees attack and hurt people; hunting; characters nearly drown; characters shot at; several incidents of characters getting killed.
Two extended incidents of sword fighting.
Sex/Nudity: Many (37) brief incidents including holding hands; touching arm; hugging; walking arm in arm; rubbing back; thinking about kiss; arm around; character gets naked for bath; character sleeps naked; healer rips characters shirt off; characters get tied up and are naked; reference to not having sex; reference to man taking characters to bed; character talks about having sex (no detail); reference to size of bosom; cat calls; imagining sex (no detail); mention of rape.
Mature Subject Matter:
Report of rape, death and murder, reference to slavery, kidnapping and slavery, gambling and cheating, characters robbed.
Alcohol / Drug Use:
Secondhand reports of drunk characters; a few incidents of characters drinking (at bar or with dinner).
Reviewed By Jenny