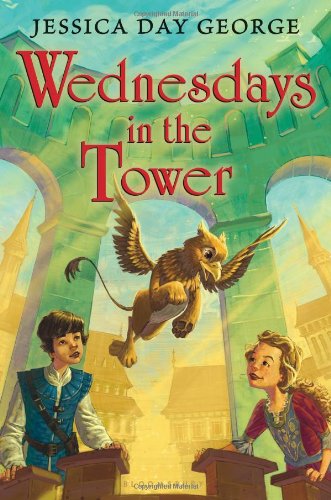 Publisher's Note:
A castle that is constantly rearranging itself, and a young royal family sworn to protect it... Celie, Rolf, and their beloved Castle Glower are back in this exciting sequel. When her brother Rolf dares her to catch magical Castle Glower creating a new room, Princess Celie takes the challenge! No one knows the Castle better than she does. But as usual, the Castle has ideas of its own.Celie finds the new room first, and inside it is hidden a giant egg. It looks like The Castle wants Celie to care for the egg and whatever creature it hatches! Celie hadn't bargained for a pet, and caring for this one will prove to be especially tricky, once Celie and her siblings realize what else the Castle is hiding...
Wednesdays in the Tower
by Jessica Day George
Overall Review:
What a fun book! Jessica Day George really knows how to hook the reader and keep them racing through the pages of her novels. Having not read the first book of this series, Tuesdays at the Castle, I worried about being a bit lost but George fills in enough details from the previous book that it wasn't difficult to pick up the story in book two, Wednesdays in the Tower. The characters are great and diverse--from the eccentric foreign prince, the unexpected and possibly evil wizard, to the young but mature and incredibly talented princess.
Toward the end things became a bit intense and the ending will have the reader extremely anxious to jump into the next book. I read this book to screen it for my eight-year-old and even with the final chapters being suspenseful, I feel children this age can handle it and will love the story. This is a unique tale that the whole family can enjoy.
Content Analysis:
Profanity/Language: None
Violence/Gore: Several (16) brief incidents including character joking about a lance shocking little girls; character jokingly gives verbal threat; reference to something that could kill; character could've potentially died; secondhand report of character getting shocked by armor; reference to someone trying to have characters killed; story of fantasy animals eating other animals and their riders; reference to war; secondhand reports of people dying; story of people attacked and fantasy animals killed; character smashes into a wall receiving minor injuries; character falls down and receives a small cut; characters fall and are barely hurt; fantasy animal damages rooms.
Sex/Nudity: Few (3) brief incidents including reference to a boy who is a flirt; secondhand report of flirting; characters walking arm in arm.
Mature Subject Matter:
Reference to war.
Alcohol / Drug Use:
None
Reviewed By Jenny