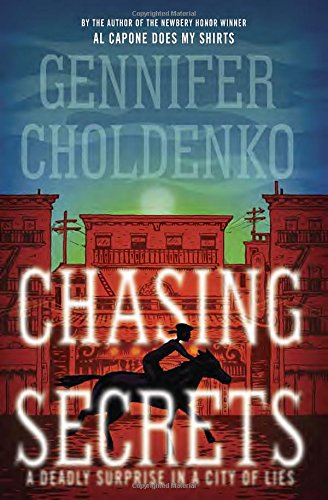 Publisher's Note:
Newbery Honor–winning author Gennifer Choldenko deftly combines humor, tragedy, fascinating historical detail, and a medical mystery in this exuberant new novel.
San Francisco, 1900. The Gilded Age. A fantastic time to be alive for lots of people . . . but not thirteen-year-old Lizzie Kennedy, stuck at Miss Barstow's snobby school for girls. Lizzie's secret passion is science, an unsuitable subject for finishing-school girls. Lizzie lives to go on house calls with her physician father. On those visits to his patients, she discovers a hidden dark side of the city—a side that's full of secrets, rats, and rumors of the plague.
The newspapers, her powerful uncle, and her beloved papa all deny that the plague has reached San Francisco. So why is the heart of the city under quarantine? Why are angry mobs trying to burn Chinatown to the ground? Why is Noah, the Chinese cook's son, suddenly making Lizzie question everything she has known to be true? Ignoring the rules of race and class, Lizzie and Noah must put the pieces together in a heart-stopping race to save the people they love.
This book was sent to Compass Book Ratings for review by Wendy Lamb Books (A Random House Children's Imprint)
Chasing Secrets
by Gennifer Choldenko
Overall Review:
Author Gennifer Choldenko sets Chasing Secrets in her beloved San Francisco in 1900. The novel is brimming with nuanced characters: a spunky heroine, an independent brother, a layered aunt, a secret friend, a concerned father, and more. Ms. Choldenko invests serious page-time to capturing the historical setting and flavor of life at the turn of the century; no corners are cut in this department. This creates a gentle start to the story, but it is well-worth it because it strongly connects the reader to protagonist, Lizzie, and gives a multi-dimensional perspective of the different concerns and issues at hand. The action in this book comes closer to the end and the ultimate ending is poignant, but feels authentic. Chasing Secrets is a solid addition to middle grade historical fiction and a great testament that there is always room for excellent writing.
Content Analysis:
Profanity/Language: 2 religious exclamations.
Violence/Gore: Character is treated for broken limb caused by a fall; character has been in a fight and has visible injuries, some of which need to be treated and there is a brief description of stitching up a wound; character pricks finger with needle (on purpose) and blood is mentioned; character is taught to defend herself (general description); report of a character jumping from a window and injuring self; character's dislocated limb treated (brief description); brief explanation of what it means to be "shanghaied"; scene (~1 page) in which group of men threaten a 13 year old girl physically and verbally--chase, grab, struggle, etc.; character sees bodies stuffed into containers; extended scene in which mob threatens violence; characters become ill; character die from the plague.
Sex/Nudity: Girls like boys and vice versa; girls "chatter about brassieres".
Mature Subject Matter:
Death of a family member, plague, illness, death, racial prejudice and discrimination, discrimination (women), power of the press, ethics.
Alcohol / Drug Use:
Adults drink; adults smoke cigarettes; mention of men coming home from saloons; man smells of rum.
Reviewed By Cindy