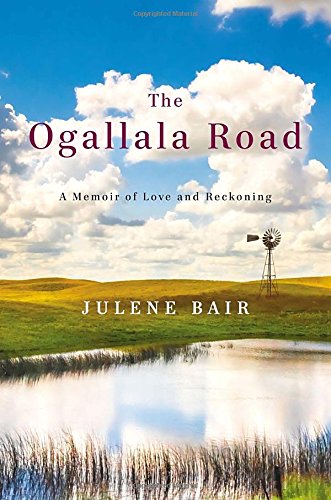 Publisher's Note:
A love affair unfolds as crisis hits a family farm on the high plains

Julene Bair has inherited part of a farming empire and fallen in love with a rancher from Kansas's beautiful Smoky Valley. She means to create a family, provide her son with the father he longs for, and preserve the Bair farm for the next generation, honoring her own father's wish and commandment, "Hang on to your land!" But part of her legacy is a share of the ecological harm the Bair Farm has done: each growing season her family—like other irrigators—pumps over two hundred million gallons out of the Ogallala aquifer. The rapidly disappearing aquifer is the sole source of water on the vast western plains, and her family's role in its depletion haunts her. As traditional ways of life collide with industrial realities, Bair must dramatically change course.

Updating the territory mapped by Jane Smiley, Pam Houston, and Terry Tempest Williams, and with elements of Cheryl Strayed's Wild, The Ogallala Road tells a tale of the West today and points us toward a new way to love both the land and one another.
The Ogallala Road: A Memoir of Love and Reckoning
by Julene Bair
Overall Review:
This book reminded me of many other non-fiction books I have read that are written by women looking for their purpose in life. Most often, these women are middle-aged. They may be going through a "midlife crisis", or they may have simply never found their niche. Julene Bair is a woman who I came to think of as strong, self-assured, and bold. However, before I came to this conclusion, I first saw what had shaped her.
From the importance of water to crops, to the meaning of family and love, this book is one that I will not soon forget. I was drawn in within the first few chapters, and then I could hardly stop reading. I have always been an advocate for the earth, but Julene Bair puts me to shame, as she chronicles her efforts to get her family and even people of high standing in the state of Kansas to rally around her and her concerns for the parched earth she calls home.
If you are not much of a non-fiction fan, you might still enjoy this book. I received a lot of amusement studying the Bair family and observing how they coped with the problems and joys that came their way. If you grew up in the Midwest, or call it home, then this book will be even more welcome on your nightstand.
Review of Advance Reader Copy
Content Analysis:
Profanity/Language: 12 religious exclamations; 11 mild obscenities; 6 religious profanities; 3 derogatory names; 5 scatological words; 5 anatomical terms; 1 F-Word derivative.
Violence/Gore: A man is reported to slap a woman; a man is reported to have been hit by a vehicle and killed; a son is said to have shot himself and died; a premature birth is mentioned with some brief detail.
Sex/Nudity: Adults kiss; a possibility of rape is mentioned; a man is reported to urinate in public; an unmarried, undressed couple makes love in one brief scene with no explicit detail; a woman's husband is reported to wash her back while she is nude in the bathtub, intimacy is implied; character referred to as "sexy"; a woman and man swim nude together in a pond; a woman swims mostly nude and her dad comments on it; a man forces a woman to touch him intimately.
Mature Subject Matter:
Death, divorce, suicide, natural disasters, personal crises, war in history, sex/gender identity issues brought up.
Alcohol / Drug Use:
Adults drink beer; drug and alcohol addiction are mentioned; adults smoke clove cigarettes; a minor drinks legally in a foreign country; characters mentioned to drink a lot and get tipsy.
Reviewed By Lydia