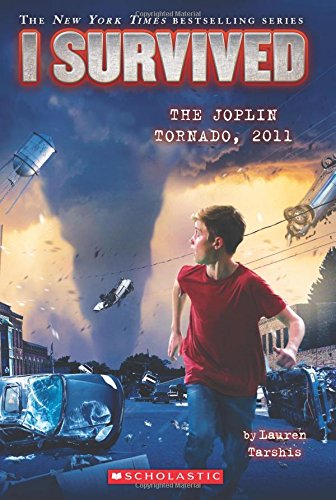 Publisher's Note:
The next book in the New York Times bestselling I Survived series will place readers right in the middle of the deadly Joplin Tornado of 2011.

The 2011 Joplin tornado was a catastrophic tornado that struck Joplin, Missouri in 2011. It was part of a larger tornado outbreak in the spring of that year and reached a maximum width of nearly 1 mile during its path through the southern part of the city, killing 158 people, injuring over 1,000 and caused damages amounting to a total of $2.8 billion, making it the costliest single tornado in U.S. history. Lauren will bring her signature intensity to this distinctly American natural disaster, placing a young boy in the middle of one of the deadliest tornado to strike the United States since 1947.
This book was sent to Compass Book Ratings for review by Scholastic
I Survived: The Joplin Tornado, 2011
by Lauren Tarshis
Overall Review:
I Survived: The Joplin Tornado, 2011 is very much an eye witness account of the tornado that destroyed the Joplin community in 2011. Author, Lauren Tarshis, brings to life what it is like to live in tornado country with her next installment of the 'I Survived' series. Seen through the eyes of her fictional character, Dex, all the events are based in fact and Tarshis draws the reader in and makes them feel as if they were actually there. Woven into this account of the tragic event is Dex's worry for his older brother, a Navy SEAL, who is overseas on assignment.
To get Dex up close and personal with a tornado, the author has him go on a "mission" with a scientist/tornado chaser. While he promised to keep Dex away from anything too dangerous, both Dex and Dr. Gage realize that predicting Mother Nature is really an impossible task, and they get a little too close for comfort. Tarshis does such a wonderful job in such a short amount of time in getting the reader to feel what it might have been like to survive each event. For this novel, the reader will come away feeling what is was like to be in and survive a tornado, as well as the feelings of seeing the destruction that was left behind and the community coming together to rebuild.
Added note by the reviewer: The author does an excellent job in making the reader feel that they are actually there. That being said, as someone who has lived the past 16 years in the South and now in Missouri, where tornados are common and children practice tornado drills in school, I would hesitate to give this to a young reader who has a fear of this actually occurring. For example I would certainly give this to my 11 year old to read, but I would not give it to my 7 year old (who is capable of reading this), because she has expressed her fear of tornados and gets scared every time we head to the basement because of the tornado sirens. It's a case of something hitting a little too close to home.
Review was of an Advance Reader Copy
Other books reviewed in the I Survived series: I Survived: The Nazi Invasion, 1944; I Survived: The Destruction of Pompeii, AD 79
Content Analysis:
Profanity/Language: 1 religious exclamation.
Violence/Gore: Mention of tornado killing 158 people (3 times); description of character being stuck in a car as tornado hits and is cut by the broken glass; character worries and has nightmares about what could happen to his brother in a war zone; character almost hit by car while riding his bike, but animal knocks him off his bike; secondhand account of someone having to swim in the ocean, cutting his leg and worrying about getting bit by a shark; secondhand account of someone getting leg sliced opened in a car accident; brief mentions of other tornadoes that destroyed towns and left people dead; account of character being in a tornado and getting arm sliced by flying debris; character knocked to the ground by a large piece of hail hitting his head; description of the destruction to the town a tornado is causing; character sustains a large gash to the bone on his leg from the car being tossed around; 7 page account of character witnessing and being in a tornado with description of injuries and destruction happening; firsthand account of a destroyed house with character wondering if anyone survived.
Sex/Nudity: None
Mature Subject Matter:
Natural disaster, death.
Alcohol / Drug Use:
None
Reviewed By Sally