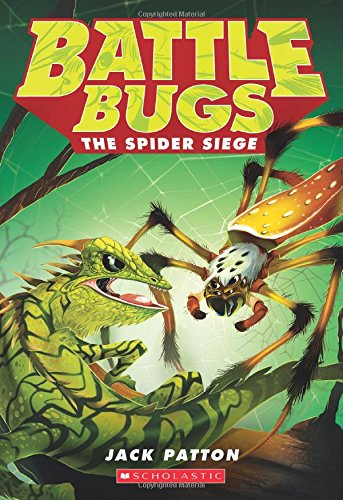 Publisher's Note:
Never leave a bug behind-- collect all the Battle Bugs books!

Back to Bug Island!

General Komodo and his army are on the attack. Komodo has assembled a fleet of fearsome horned lizards for a mountain assault. The Battle Bugs have to come up with an airtight plan-or risk losing everything.

Max's return to Bug Island is dangerous--but the Battle Bugs need his hel!
This book was sent to Compass Book Ratings for review by Scholastic
The Spider Siege (Battle Bugs 2)
by Jack Patton
Overall Review:
In The Spider Siege the reader returns to Bug Island when Max is summoned back to help with the lizards that are once again threatening the insect inhabitants. Like the first book of the series, The Lizard War, The Spider Siege is an epic adventure on bug scale. The quick pacing of the story keeps the reader pushing forward, while the introduction of not only some new characters, but some new insect and lizard species keeps the story fresh. And, of course, along with those new species come new fun facts about them. The Spider Siege is an excellent sequel and a book that will excite young readers.
Tth Spider Seige is a beginner book, written for those young readers who are just starting on chapter books (seven and eight year olds) and is the second book in the Battle Bugs series by Jack Patton.
Review of an Advance Reader Copy
Content Analysis:
Profanity/Language: None
Violence/Gore: Character is almost eaten by a reptile; character and bug are caught in a landslide; one extended (non-graphic) battle scene between bugs and lizards comprising several chapters.
Sex/Nudity: None
Mature Subject Matter:
War, death (all in "bug" context).
Alcohol / Drug Use:
None
Reviewed By Amberle