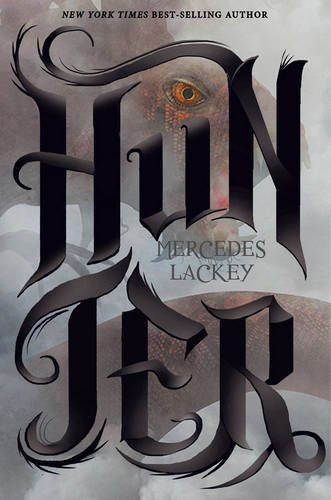 Publisher's Note:
They came after the Diseray. Some were terrors ripped from our collective imaginations, remnants of every mythology across the world. And some were like nothing anyone had ever dreamed up, even in their worst nightmares.

Monsters.

Long ago, the barriers between our world and the Otherworld were ripped open, and it's taken centuries to bring back civilization in the wake of the catastrophe. Now, the luckiest Cits live in enclosed communities,behind walls that keep them safe from the hideous creatures fighting to break through. Others are not so lucky.

To Joyeaux Charmand, who has been a Hunter in her tight-knit mountain community since she was a child, every Cit without magic deserves her protection from dangerous Othersiders. Then she is called to Apex City, where the best Hunters are kept to protect the most important people.

Joy soon realizes that the city's powerful leaders care more about luring Cits into a false sense of security than protecting them. More and more monsters are getting through the barriers,and the close calls are becoming too frequent to ignore. Yet the Cits have no sense of how much danger they're in-to them, Joy and her corp of fellow Hunters are just action stars they watch on TV.

When an act of sabotage against Joy takes an unbearable toll, Joy uncovers a terrifying conspiracy in the city. There is something much worse than the usual monsters infiltrating Apex. And it may be too late to stop them.
This book was sent to Compass Book Ratings for review by Disney-Hyperion
Hunter
by Mercedes Lackey
Overall Review:
Mercedes Lackey has written over 100 books, but Hunter is her first official foray into the young adult market. (Those old enough to remember the days before the creation of the young adult demographic might suggest that she has always written for the young adult market--regardless of labels). Ms. Lackey, a well-renowned fantasy writer, has taken a fantasy concept and layered it on a post-apocalyptic/dystopian world so this book really has something for both dystopian fans and for fantasy fans. The narrative is written in a casual, rambling, first person voice that is popular today in the YA genre, but it is a departure from Ms. Lackey's more traditional fantasy voice. It is always nice to see an established author try something new, but following the current trend may not give this book a lot of staying power and put-off her existing fans. However, if this book ends up creating some new Mercedes Lackey fans, then that would be a nice bonus.
The protagonist, Joyeaux Charmand, is wise and gifted beyond her years and quite easy to like. The story arch is not steep, and it is almost three quarters into the book before the true conflict manifests itself. However, there is plenty happening up to this point to keep the reader engaged. The battles are plentiful, even if the politics and ultimate direction are initially vague. Whether it is for good or for bad, this book certainly reminds the reader of Hunger Games--but with some butt-kicking monsters out of different mythologies. It fits in neatly to the current, popular style of young adult fiction. Hunter is the first book in a series that will most likely gain in momentum as it continues.
Oh, and love that cover!
Review of an Electronic Advance Reader Copy
Content Analysis:
Profanity/Language: 1 religious exclamation; 19 mild obscenities; 1 derogatory name; 1 scatological word; 3 anatomical terms.
Violence/Gore: Non-detailed reports of fighting monsters; verbal and implied threats; slightly gruesome, but brief descriptions of monsters; explanations regarding monsters and why they like to eat humans; brief fight with monster involving magic and missiles; passing reference to beating a monster to death so it wouldn't carry off livestock; brief hand-to-hand sparring; a few separate brief scenes in which various monsters are battled with other mythical creatures, weapons, fire, and magic; mythical creatures hunt game; extended fight scene with monsters involving weapons, magic, grenades, mention of blood, and cutting off head of monsters, non-detailed; characters shot at by snipers; extended fight scene in which characters fight monsters using weapons and magic; character flipped on back; scene in which monster is killed with stake to heart and its victims are found with throats ripped out; extended trial scene involving physical challenges, being shot at, etc., and ending with a magic duel; tattoos are removed from a character and they scream in pain.
Sex/Nudity: Passing comment that media might turn a two female characters into a "couple"; reference to a non-specified crude joke; reference to "lizzies"; female asks if she is only to dance with boys or with girls; a female character refers to her wife; general reference to a couple having an affair; kiss on hand; kiss on head - platonic in nature; male and female character kiss upon a couple of different occasions.
Mature Subject Matter:
Death, apocalyptic aftermath, economic disparity.
Alcohol / Drug Use:
Characters of varying ages (some teenagers) drink wine, champagne, and other alcoholic beverages with dinners and at social events.
Reviewed By Cindy