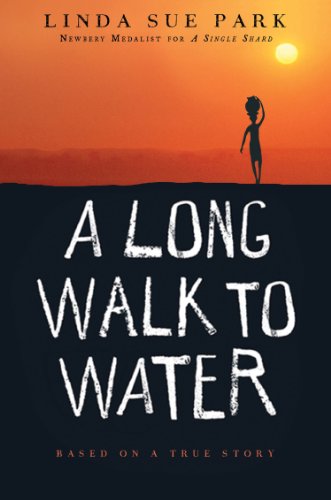 Publisher's Note:
he New York Times bestseller A Long Walk to Water begins as two stories, told in alternating sections, about two eleven-year-olds in Sudan, a girl in 2008 and a boy in 1985. The girl, Nya, is fetching water from a pond that is two hours' walk from her home: she makes two trips to the pond every day. The boy, Salva, becomes one of the "lost boys" of Sudan, refugees who cover the African continent on foot as they search for their families and for a safe place to stay. Enduring every hardship from loneliness to attack by armed rebels to contact with killer lions and crocodiles, Salva is a survivor, and his story goes on to intersect with Nya's in an astonishing and moving way.
A Long Walk to Water
by Linda Sue Park
Overall Review:
A Long Walk to Water by Linda Sue Park has been spending a lot of time on the New York Times Bestseller List--and deservedly so. A narrative told in alternating points of view and time, it is classified as fiction. However, one of the points of view is based on the real-life experiences of Salva Dut from Sudan, as gleaned from his written accounts and hours of interviews. This is the clincher--what makes this story so amazing. It is an almost unbelievable story of the resiliency of the human spirit, the tragedy of war, and the possibility of changing the world against all the odds.
This is one of those rare books that can change a reader's perceptions and even their life. No one should miss the opportunity to read this book. A highly recommended read for all ages from 9 to 99.
Content Analysis:
Profanity/Language: None
Violence/Gore: Report of hunting/killing/cooking game to eat; gunfire is heard and smoke and fire is seen; soldier hits man in face with butt of gun, bleeding mentioned; references to fighting/battles between different groups; injuries from bee stings; minor, accidental injury to limb; character is missing and only blood is found so it is assumed he has been killed by animal; characters come upon a group of dead and dying due to lack of water; character is tied up at a distance, later shots are heard and it is clear that the character has been executed; character has conversation in which he learns family members have most likely died due to violence; scene (about 1 page) in which soldiers drive group of people (children included) into crocodile infested water, shooting them, and some are killed by animals with mentions of blood; passing references to deaths by various means (wild animals, exhaustion, bullets, etc.)
Sex/Nudity: None
Mature Subject Matter:
Revolution/Uprising, war, tribal conflicts, poverty/economic hardship, death, death of a family member, genocide, illness.
Alcohol / Drug Use:
None
Reviewed By Cindy