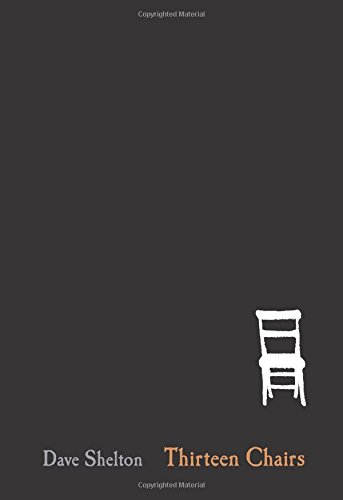 Publisher's Note:
A spine-tingling collection of ghost stories

When a boy finds himself drawn into an empty house one cold night, he enters a room in which twelve unusual-looking people sit around a table. And the thirteenth chair is pulled out for him.

One by one, each of those assembled tells their own
ghost story: tales of doom and death; of ghostly creatures and malevolent spirits; of revenge and reward. It is only at the end of the night that the boy starts to understand what story he must tell . . .
This book was sent to Compass Book Ratings for review by Scholastic
Thirteen Chairs
by Dave Shelton
Overall Review:
UK author Dave Shelton's novel, Thirteen Chairs, crosses the pond via publisher Scholastic, to conjure thrills among middle grade, and daring elementary-aged children.
A progressive prose within an entertaining collection of supernatural tales, readers are introduced to Jack, and twelve others as they each chronicle a sensationally spooky story. Some of the narration is told through first person, others through third person. Some tales are told in a straight-forward, morose manner; others in a creepy whimsical fashion. Each story is short and befits what readers are told about the storyteller's unique traits and appearance.
An amusing quality about the book is that it's really a story within a story, and leaves the reader guessing as to what the outcome of the book will entail. Even the ending may have some pondering the exact conclusion, as it is not laid out plainly. There are few graphic details amidst the foreboding fiction. More or less, the narrative hints at foul play and invites the readers to use their imagination to spawn its own horror.
Definitely not terrifying, but still spine-tingling, Thirteen Chairs, inspires readers to become inventive and construct their own representation of what they're reading. Curious? Pull up a chair.
Content Analysis:
Profanity/Language: 7 religious exclamations; 2 mild obscenities.
Violence/Gore: Character hits another character over the head with an object, character falls breaking their neck; character witnesses the blood and gore of a dead body, somewhat descriptive; few (less than 10) scary/creepy scenes; secondhand report of domesticated animal hunting and fighting vermin; secondhand report of character covered in scratches and blood; secondhand report of character dying from a blow to the head; secondhand report of cut on leg, blood mentioned; secondhand report of drowning; mention of murder by slashing of the throat; character punches another character; character threatens another character, shoves them 2x; secondhand report of death by car crash; secondhand report of blood, carnage, and death caused by a wild animal; threats of revenge 2x; implication that character was murdered with a knife; secondhand report of character being struck down.
Sex/Nudity: None
Mature Subject Matter:
Murder, death, revenge, supernatural occurrences.
Alcohol / Drug Use:
Many (10 or more) mentions of adults partaking of alcohol and/or visiting pubs; one brief mention of child smoking a cigarette.
Reviewed By MaryLou