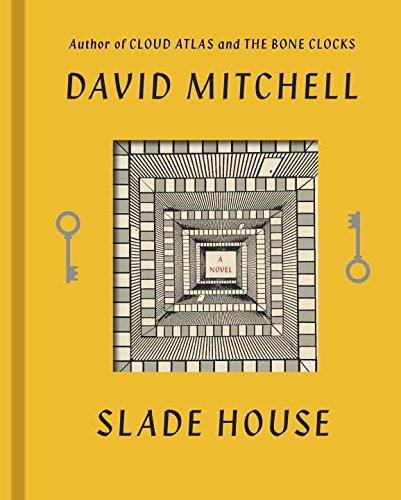 Publisher's Note:
By the New York Times bestselling author of The Bone Clocks and Cloud Atlas | A Publishers Weekly Literary Fiction Top 10 Pick for Fall 2015

Keep your eyes peeled for a small black iron door.

Down the road from a working-class British pub, along the brick wall of a narrow alley, if the conditions are exactly right, you'll find the entrance to Slade House. A stranger will greet you by name and invite you inside. At first, you won't want to leave. Later, you'll find that you can't. Every nine years, the house's residents—an odd brother and sister—extend a unique invitation to someone who's different or lonely: a precocious teenager, a divorced policeman, a shy college student. But what really goes on inside Slade House? For those who find out, it's already too late. . . .

Spanning five decades, from the last days of the 1970s to the present, leaping genres, and barreling toward an astonishing conclusion, this intricately woven novel will pull you into a reality-warping new vision of the haunted house story—as only David Mitchell could imagine it.
This book was sent to Compass Book Ratings for review by Random House
Slade House: A Novel
by David Mitchell
Overall Review:
I will admit that I was a bit leery about this book. I tried watching the movie Cloud Atlas when it was first out on DVD and I just could not get into it. The idea sounded so cool, but the story just didn't pull me in. I was afraid that was how this book would be, but it wasn't. Slade House was a little confusing at first, but once I got the idea of what was going on, I buckled down and held on for a wild ride.
If you are into books about ghosts and time travel, this book is for you. And guess what? It's short enough that you can read it in a timely manner, but just long enough that you don't feel ripped off. I found out after I read this book that it is set in the same theme or time as The Bone Clocks, a book which I have not read but have heard a lot about. So I would imagine if you liked that book, this one would be right up your alley.
Among my favorite parts of this book were the mysterious doors, the lovely gardens, and the yummy character descriptions. I was surprised at how much I enjoyed this book, especially since it jumps around a lot as far as the timeline goes. At times I wasn't sure whether what was happening was supposed to be the reality the characters were experiencing, or some kind of a dream. I guess that will be up to you, as a reader to interpret. All in all, this book was quite creepy and disturbing, but one I would recommend giving a try.
Content Analysis:
Profanity/Language: 16 religious exclamations; 6 mild obscenities; 4 derogatory names; 13 scatological words; 3 anatomical terms; 5 F-Word derivatives.
Bloody is used as a curse word, but not tallied.
Violence/Gore: A building is described to be bombed; a child is reported to be bullied; verbal threats are made; a scary dream is recounted involving ghosts and odd noises; a dead animal is seen in the street; two people disappear; a character is hit by a car in a brief report; ghostly people and voices are observed; a character drives a car off of a cliff and dies; an abduction is suspected; a child is reported to be in danger; a report of a death is made; a character imagines his soul being taken; a murder occurs in one brief recount.
Sex/Nudity: Adults kiss; condoms are referred to; sex is implied with no descriptions; a character is referred to as "sexy"; sex is referred to as "shagging"; sex is referred to several times; a character is mentioned to have lost their virginity; a character observes nude bodies tangled in a bed, sex is implied to have occurred; sex is implied to be happening at a party.
Mature Subject Matter:
Death, ghosts and the supernatural/paranormal, death from cancer.
Alcohol / Drug Use:
Rumors of drug use are heard; hash brownies are served in a brief scene; adults smoke; a minor takes their mother's prescription valium; adults drink wine; a girl is mentioned to be smoking a spliff; beer is served to adults; a character refers to a "bad trip".
Reviewed By Lydia