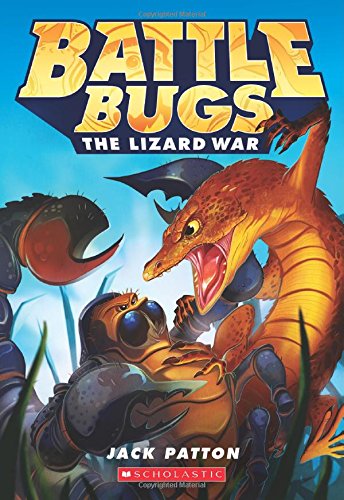 Publisher's Note:
Never leave a bug behind-- collect all the Battle Bugs books!

Never leave a bug behind!

Bug Island is under attack! The lizard army is invading and the Battle Bugs are losing. Their only hope against the intruders is a strange creature they've never seen before--
a human being named Max.

Max doesn't know how he ended up on Bug Island--but he does know the Battle Bugs need his help!
This book was sent to Compass Book Ratings for review by Scholastic
The Lizard War (Battle Bugs 1)
by Jack Patton
Overall Review:
The Lizard War is a beginner book, written for those young readers who are just starting on chapter books (seven and eight year olds). This book is the first in the Battle Bugs series by Jack Patton. In it the reader travels with Max when he falls through the magnifying glass while reading his new bug encyclopedia and finds himself on Bug Island in the middle of a war.
The Lizard War is a fun and fast-paced adventure. Max is a likeable and relatable character who finds himself having to use his "big brain" to help the Battle Bugs defeat the invading lizard army, led by the fearsome General Komodo. The story is filled with interesting and fun bug facts worked perfectly into the narrative. Complete with charming artwork and warm, good-natured heroes The Lizard War is a story that will have any young reader turning pages to see if Max and the Battle Bugs can come out victorious.
Review of an Advance Reader Copy
Content Analysis:
Profanity/Language: None
Violence/Gore: Character is chased by giant arachnid; several (non-graphic) battle scenes between lizards and insects; references to lizards eating bugs; reference to a volcano erupting; references to insect defenses (hair flicking, venom, etc.) and the effects of them; character falls off a giant hornet; bugs fall in a river; lizards fall in river.
Sex/Nudity: None
Mature Subject Matter:
War, death (all within "bug" context).
Alcohol / Drug Use:
None
Reviewed By Amberle