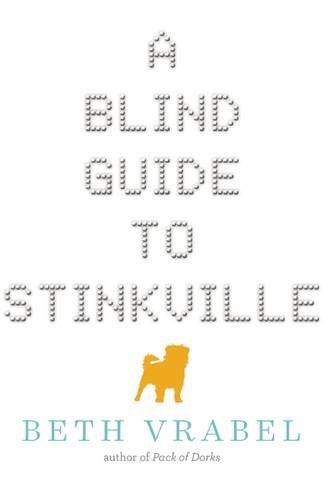 Publisher's Note:
Before Stinkville, Alice didn't think albinism—or the blindness that goes with it—was a big deal. Sure, she uses a magnifier to read books. And a cane keeps her from bruising her hips on tables. Putting on sunscreen and always wearing a hat are just part of life. But life has always been like this for Alice. Until Stinkville.

For the first time in her life, Alice feels different—like she's at a disadvantage. Back in her old neighborhood in Seattle, everyone knew Alice, and Alice knew her way around. In Stinkville, Alice finds herself floundering—she can't even get to the library on her own. But when her parents start looking into schools for the blind, Alice takes a stand. She's going to show them—and herself—that blindness is just a part of who she is, not all that she can be. To prove it, Alice enters the Stinkville Success Stories essay contest. No one, not even her new friend Kerica, believes she can scout out her new town's stories and write the essay by herself. The funny thing is, as Alice confronts her own blindness, everyone else seems to see her for the first time.

This is a stirring small-town story that explores many different issues—albinism, blindness, depression, dyslexia, growing old, and more—with a light touch and lots of heart. Beth Vrabel's characters are complicated and messy, but they come together in a story about the strength of community and friendship.
This book was sent to Compass Book Ratings for review by Sky Pony Press
A Blind Guide to Stinkville
by Beth Vrabel
Overall Review:
Picking up your life and moving across the country would be a challenge for anyone. But what if you had to do it while your dad worked all the time, your brother was sulking, and your mom couldn't find the energy to get out of bed everyday? Oh, and on top of that, you are blind. That is exactly the predicament that Alice finds herself in. Leaving everything familiar behind, can she make this new town a home on her own?
Blind Guide to A Stinkville by Beth Vrabel, is a heart-warming tale of a girl who chooses to push forward despite all the challenges life bring. Alice is a charming heroine, determined to prove that just because she is legally blind doesn't mean she can't see a way to make the best of a less than ideal situation. At first determined not to like her new town of Sinkville and forced to, in a way, fend for herself for the first time in her short life, Alice soon finds a kind of magic in the ordinary lives of the town people.
Vrabel surrounds Alice with a beautiful contingent of characters, all flawed in their own special way, and some, like Alice, trying to overcome their own difficulties. Vrabel masterfully weaves in several disabilities and deals with them in a real and respectful way, while avoiding becoming too heavy and possibly going over the heads of some younger readers. A Blind Guide to Stinkville leaves the reader feeling fully uplifted and curious as to what kind of stories are hiding in their own backyards.
Review of an Advance Reader Copy
Content Analysis:
Profanity/Language: Reference to an adolescent flipping off another adolescent.
Violence/Gore: Adolescent trips; adolescent hits another adolescent; adult playfully swats an adolescent with a tie; sunlight causes pain to an adolescents eyes; 2 references to adults cutting their hands; reference to an elderly man falling; adolescent gets a severe sunburn; animal accidentally scratches character; character is bitten by an animal; reference to an animal being hit by a car; elderly man breaks ankle and cuts hand; animal gets a tumor.
Sex/Nudity: None
Mature Subject Matter:
Depression, dyslexia, disability, moving, starting over, change, terminal illness (in a pet).
Alcohol / Drug Use:
None
Reviewed By Amberle