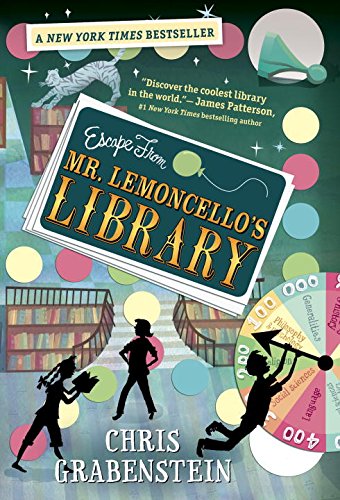 Publisher's Note:
Charlie and the Chocolate Factory meets A Night in the Museum in this action-packed New York Times Bestseller from Chris Grabenstein, coauthor of I Funny, Treasure Hunters and other bestselling series with James Patterson!

Kyle Keeley is the class clown and a huge fan of all games—board games, word games, and particularly video games. His hero, Luigi Lemoncello, the most notorious and creative gamemaker in the world, just so happens to be the genius behind the construction of the new town library. Lucky Kyle wins a coveted spot as one of twelve kids invited for an overnight sleepover in the library, hosted by Mr. Lemoncello and riddled with lots and lots of games. But when morning comes, the doors stay locked. Kyle and the other kids must solve every clue and figure out every secret puzzle to find the hidden escape route!

Don't miss bonus content in the back of the book—extra puzzles, an author Q&A, and more!
Escape from Mr. Lemoncello's Library
by Chris Grabenstein
Overall Review:
Escape from Mr. Lemoncello's Library is a book that has been spending a lot of time on the New York Times Bestseller List and other recommendation lists. All this attention is not unwarranted. It is a book that is made delightful by its details and small touches. This isn't a book about magic or character development or brilliant dialogue; ultimately, it is an action-book, which may seem odd for a book about a library. However, this library is a high-tech-beyond-your-wildest dreams library. And, it is a book about puzzles and games.
There is plenty of homage to children's literature--both classic and contemporary. That is one of the nice touches. Another is that the main character, Kyle, isn't much of a reader, but rather a gamer. (This is slightly unconventional for a book about a library.) If there is a game (board, electronic, or otherwise), then he is interested.
The publisher's note says this book is a combination of Willa Wonka and Night at the Museum and that is pretty spot-on. Bibliophiles will be recommending and enjoying this book for years to come, but because of the main character, this book will also appeal to middle grade readers who are not necessary die-hard readers.
Content Analysis:
Profanity/Language: None
Violence/Gore: Property is damaged (deliberately); characters talk about a video game with some cartoon violence; characters fall/trip (no injuries)
Sex/Nudity: None
Mature Subject Matter:
None
Alcohol / Drug Use:
None
Reviewed By Cindy