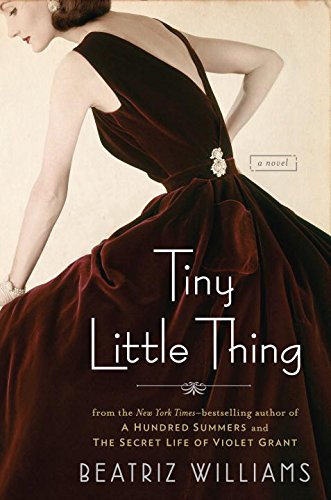 Publisher's Note:
In the summer of 1966, Christina Hardcastle—"Tiny" to her illustrious family—stands on the brink of a breathtaking future. Of the three Schuyler sisters, she's the one raised to marry a man destined for leadership, and with her elegance and impeccable style, she presents a perfect camera-ready image in the dawning age of television politics. Together she and her husband, Frank, make the ultimate power couple: intelligent, rich, and impossibly attractive. It seems nothing can stop Frank from rising to national office, and he's got his sights set on a senate seat in November.

But as the season gets underway at the family estate on Cape Cod, three unwelcome visitors appear in Tiny's perfect life: her volatile sister Pepper, an envelope containing incriminating photograph, and the intimidating figure of Frank's cousin Vietnam-war hero Caspian, who knows more about Tiny's rich inner life than anyone else. As she struggles to maintain the glossy façade on which the Hardcastle family's ambitions are built, Tiny begins to suspect that Frank is hiding a reckless entanglement of his own…one that may unravel both her own ordered life and her husband's promising career.
Tiny Little Thing
by Beatriz Williams
Overall Review:
I was unaware that there was a novel preceding this one, which tells the story of a few of the characters introduced in Tiny Little Thing. So, now I have another book on my TBR list, as I am curious about the lives of the Schuyler and Hardcastle families. I don't typically go for books like this one, but it seems as if lately, books set in the 1950's and 60's have been practically falling into my lap, so I am starting to warm a bit to that era.
This book is similar to other books that have been published recently, in that it is primarily telling the story of a woman living in a scandalous situation. Told in the alternating voices of Christina "Tiny" Hardcastle and the mysterious Caspian, this book actually kept me interested all the way. Women still deal with many of the issues that were just beginning to arise back when this story took place. Women are supposed to look a certain way, act just so, and be happily and quietly married; however, as any adult human being knows, this isn't always the case.
Tiny makes the perfect little housewife, but she also has a secret. She seems innocent, but slowly the reader gets a glimpse at the entire picture and is able to start putting the pieces together. This book is a wonderful way to relive the past through another's eyes. Even readers that are more likely to pick up a romance novel than a book on the new fiction shelf might be surprised at how entertaining this read is.
Content Analysis:
Profanity/Language: 16 religious exclamations; 33 mild obscenities; 12 religious profanities; 16 derogatory names; 7 scatological words; 4 anatomical terms; 25 F-Word derivatives.
Violence/Gore: A man is given a medal for acts of valor and courage in the war; blackmail occurs in several different instances; a woman mentions that she had a miscarriage recently; an armed robbery occurs and several people are shot and injured with no explicit detail; a man punches his brother-in-law out of rage; a man is mentioned to have been shot in a war; a man is mentioned to have lost his leg due to war injuries; a scuffle between adults occurs, a man is injured from this occurrence.
Sex/Nudity: Sexual comments are made about women; a man kisses his wife on the cheek; a man mentions how he would like to "screw a girl" and how he likes her breasts; a man imagines what sex would be like with a certain woman; a woman wonders if another woman undressed for her fiance and tried to seduce him; a man pats his wife's behind in two different scenes; a minor girl tells an adult she has see her mother and father in the act of sex, she briefly describes what she thinks she saw; a woman reports that an injury makes sex difficult for her lover; a woman swims nude in a pool; a woman is mentioned to like to look at her nudity in a mirror; a man admits he is thinking about sex; two grown sisters talk about sex in a brief scene with some detail; "swinging" and trading spouses is mentioned; a husband and wife have sex in one brief scene with some description; a woman dances in front of her lover in only a T-shirt in one brief scene, her lack of clothing is noted by the man; a woman is mentioned to be nude while she has sex with her lover, some brief description of her body; a woman exposes her breasts that are swollen, no detail other than that is given; a woman is mentioned to be pregnant out of wedlock; a nude man is observed swimming by a woman who likes him; a woman is photographed nude by her lover, he marvels over her beauty, mentions that her sister has posed nude before also; a man mentions that he "dismantled" a woman's virginity before she was married; a woman hears her husband having a sexual encounter with a male; a character is reported to have had an affair with a professor in school, a scandal commenced.
Mature Subject Matter:
War, abortion, divorce, adultery, sex/gender identity issues.
Alcohol / Drug Use:
Adults drink at social occasions; adults smoke; a character is mentioned to be drunk; cognac, scotch, and vodka are served; a man is mentioned to smoke "grass"; women smoke (which is seen as a scandal).
Reviewed By Lydia