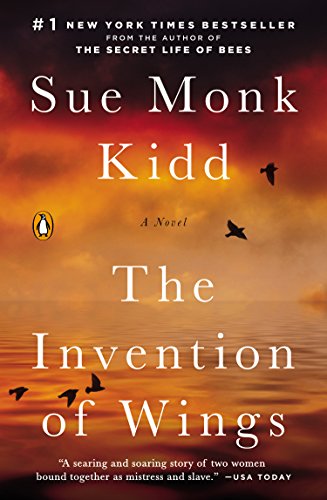 Publisher's Note:
From the celebrated author of The Secret Life of Bees, a #1 New York Times bestselling novel about two unforgettable American women.
Writing at the height of her narrative and imaginative gifts, Sue Monk Kidd presents a masterpiece of hope, daring, the quest for freedom, and the desire to have a voice in the world.
Hetty "Handful" Grimke, an urban slave in early nineteenth century Charleston, yearns for life beyond the suffocating walls that enclose her within the wealthy Grimke household. The Grimke's daughter, Sarah, has known from an early age she is meant to do something large in the world, but she is hemmed in by the limits imposed on women.
Kidd's sweeping novel is set in motion on Sarah's eleventh birthday, when she is given ownership of ten year old Handful, who is to be her handmaid. We follow their remarkable journeys over the next thirty five years, as both strive for a life of their own, dramatically shaping each other's destinies and forming a complex relationship marked by guilt, defiance, estrangement and the uneasy ways of love.
As the stories build to a riveting climax, Handful will endure loss and sorrow, finding courage and a sense of self in the process. Sarah will experience crushed hopes, betrayal, unrequited love, and ostracism before leaving Charleston to find her place alongside her fearless younger sister, Angelina, as one of the early pioneers in the abolition and women's rights movements.
Inspired by the historical figure of Sarah Grimke, Kidd goes beyond the record to flesh out the rich interior lives of all of her characters, both real and invented, including Handful's cunning mother, Charlotte, who courts danger in her search for something better.
This exquisitely written novel is a triumph of storytelling that looks with unswerving eyes at a devastating wound in American history, through women whose struggles for liberation, empowerment, and expression will leave no reader unmoved.
The Invention of Wings
by Susan Monk Kidd
Overall Review:
The Invention of Wings by Susan Monk Kidd is historical fiction which one might say was inspired by real people. Alternating first person narrators--Sarah Grimkey and house slave Hettie/Handful--show slavery through differing viewpoints. This is surprisingly effective and the character voicing is exquisite. The unexpected, complimentary theme in this book is not slavery and abolition, but women's rights. The book spans a time period of more than 30 years and is interesting to the very last page.
Historical fiction based on real events and people can be problematic for some because the reader is left wondering, "What is fact and what is fiction." Ms. Kidd did a nice job in the concluding author's note of outlining where liberties were taken and where she stuck to history; she also provides further reading suggestions. This is a must read for historical fiction fans and for individuals interested in the earliest crusaders for women's rights in America. This is a read worth investing in!
Note: This review was of the audiobook version, which was outstanding. There are two narrators: one for Handful and one for Sarah. Both readers were superb.
Content Analysis:
Profanity/Language: 4 religious exclamations; 12 mild obscenities; 6 religious profanities; 4 derogatory names; 2 scatological words.

Violence/Gore: Young child witness lashing of slave, mention of blood and some description; woman hits child on head with cane, knocking to ground; punishment inflicted by tying a leg to a strap which results in pain and choking; character slaps another; reports of slave whippings and other violent punishments; child receives lash with the whip; report of death from an injury; character hits other characters with a cane (multiple occurrences in the book); report of whipping and torture in a workhouse; workhouse torture described to a young child; contemplation of acts that will lead to others deaths; plans for uprising; brief description of baby whipped in the face with mention of blood; brief, detailed description of foot injured in workhouse with mention of blood; mob burns property; slave is whipped, wounds briefly described after; metal device put in slaves mouth to prevent eating or talking; men throw stones at women and hit them in the mouth; pebble thrown at women by children; house egged; evidence through scars of many beatings; mob confrontation and verbal threats by mob; brief scene describing hanging; general report/implication that master tried to force himself sexually on a slave, but was fought off with hot coals.

Sex/Nudity: Character is seen naked after they emerge from bathing; reference to "married boyfriend"; kiss on hand; reference to character luring others into "sexual liaisons"; character says she becomes a regular "Jezebel" with her betrothed; woman is pregnant out of wedlock; reference to a character spending time with that "free man"; characters kiss passionately (vague description) and character becomes disheveled; non-sexual description of a woman breast feeding; reference to characters having sex and hearing them; characters hold hands, touch hands, put hand around waist; unmarried adults have sex in a brief scene with some description mostly through metaphors.

Mature Subject Matter:
Slavery, abolition, discrimination (racial and sexual), women's rights, social classes, economic disparity, death, marriage.
Alcohol / Drug Use:
Adults drink and smoke socially; 12 year old drinks wine with family at Christmas dinner.
Reviewed By Cindy