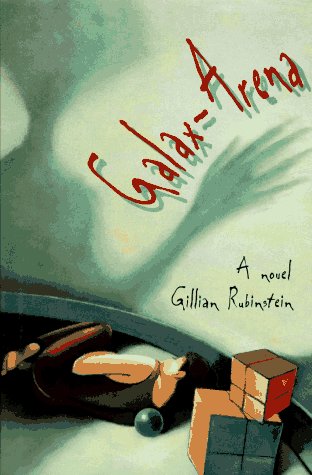 Publisher's Note:
Before The Hunger Games—even before Battle Royale—there was the Galax-Arena, where children are pitted against each other for the benefit of a shadowy audience that feeds on their fear. A Children's Book Council of Australia Honour Book for Older Readers, Galax-Arena is a dark, uncompromising thriller and a cult classic.

Joella, her brother Peter and her sister Liane, are kidnapped and transported to become entertainers for an alien species. Many of the performing children are desaparecidos—the disappeared—kidnapped from third world slums and chosen for their extraordinary gymnastic ability. For the children, there is only one escape from the Galax-Arena: out of the door and into death.

Galax-Arena was awarded the Children's Book Council of Australia Honour Book – Older Readers in 1993 and was listed in the New York Public Library's Books for the Teen Age in 1996. It was shortlisted for the Alan Marshall Prize and nominated for the Young Reader's Choice Award in 1998. Gillian's theatre adaptation of Galax-Arena was produced by Patch Theatre and the Adelaide Festival Centre Trust in 1995 and won the AWGIE for Best Theatre for Young People the following year.
Galax-Arena
by Gillian Rubinstein
Overall Review:
Galax-Arena is an intense book. Think Hunger Games, but with aliens and gymnastics-to-the-death. It is definitely creepy and latches onto your mind so that you might not forget about this story for a few years to come. You will love it.
The main characters are frighteningly human--so much so that you wish human nature did not succumb to such extremes. And the aliens are . . . well, let's just say they are repulsive in nature, but certainly interesting. You will be nervous throughout the whole book, just wanting some miracle to take place to save your characters.
One recommendation is when you are finished with the book, go back and reread the first chapter. It will tie the story together, bringing it full circle.
I first read this book as a young teen, and I remembered it for years before I recently finally found it again so I could reread it. It was even better the second time.
There is also a sequel called Terra-Farma that was published a few years after Galax-Arena (I haven't read the sequel yet). The rumored third book to the trilogy (Universercus) has still not been published, and might never be at this rate. But Galax-Arena stands alone very well, so you can choose to just stick with that book if you like.
Content Analysis:
Profanity/Language: 4 religious exclamations; 7 mild obscenities; 2 religious profanities; 11 derogatory names; 1 scatological word; 1 anatomical term.
Violence/Gore: An adult hurts a child with some form of electricity, brief and not graphic; a character predicts the death of different children a few times throughout the book; a adult slaps a child viciously; a child tells how a twin died in a fall, nongraphic; two young teens get in a short fistfight; a teen threatens another teen; a child dies in a tragic accident, nongraphic and brief; an adult threatens children; an adult hits a child three times throughout the book; a child dies a violent death, brief and nongraphic; a child briefly and non-graphically tells about another child's death; two children are hurt in a fictitious electrical manner; two children fight with each other, nongraphic; children attack an adult and brutally murder him (gory, a couple of pages long); a child injures another child (gory description).
Sex/Nudity: Two young teens hold hands once and have arms around each other once; children change clothes, nonsexual and non-detailed.
Mature Subject Matter:
Racial discrimination, race riot, child trafficking (sometimes sold by family members), child slavery, death of a family member, abandonment, separation, abduction, murder, homelessness, child abuse.
Alcohol / Drug Use:
An adult drugs children to make them sleep; a teen drugs children to make them sleep.
Reviewed By Amber