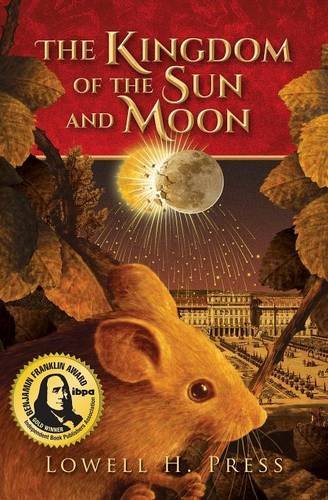 Publisher's Note:
The König is a tyrant. His subjects are starving. And all-out war is fast approaching. Will a pair of young, courageous brothers save their kingdom? When an emissary sent by the König himself stops by the remote mouse colony of Long Meadow, the peaceful life Sommer and Nesbit have shared is turned upside down-and the brothers are catapulted into separate death-defying adventures. Sommer, levelheaded and clever, is ordered to the palace to join the König's illustrious Eagle Guard as it prepares to face a full-scale invasion by the nefarious Emperor Wolfsmilch and his army of a hundred thousand forest mice. Meanwhile, the small but spirited Nesbit is banished to the Forest of Lost Life for insulting the König, and must dodge hungry predators at every turn. The brothers struggle to reunite and defy the oppressors who threaten everyone and everything they have ever known and loved. But time is quickly running out for both of them-and the fate of the kingdom hinges on one last, daring mission. Set against the magnificent backdrop of Schönbrunn Palace in Vienna, Austria, The Kingdom of the Sun and Moon is an action-packed adventure story for young readers and adults alike. Ages 10 and up
This book was sent to Compass Book Ratings for review by Parkers Mill Publishing
The Kingdom of the Sun and Moon
by Lowell H. Press
Overall Review:
Author Lowell H. Press once again proves that there is still plenty of room in literature for stories featuring mice. Joining the likes of The Tale of Despereaux and Redwall is The Kingdom of the Sun and Moon. Set at the Schonbrunn Palace in Vienna, this charming tale follows two mice brothers, Nesbit and Sommer, in a tale with political intrigue and plentiful action; there are also a few twists to sweeten the pot. In particular, the relationship between the two brothers is a special treat, and there are many resilient characters to admire. This is a great read for younger readers and even adults will find themselves cheering for the small, furry mice as they fight tyranny. The Kingdom of the Sun and Moon is a delightful, little treasure.
Content Analysis:
Profanity/Language: None
Violence/Gore: (Note: Unless specifically noted, the characters and corresponding violence involves animal characters, rather than humans.) Several reports of deaths of family members and others in military service, at the hands of animals, etc.; several verbal threats of harm an death; brief, non-detailed scene in which character observes his father being attacked with implied death; character tackled, bit, scratch, bit through ear; character is chased with a struggle fall, implied death by an animal; general reports of uprising, death, death by starvation; a character kicks, bites, tosses another character; character is taken out die; secondhand reports of death of characters in fights, etc.; scene of peril, chasing, crashing etc. resulting in minor injuries; characters struggle, bite; character staggers, "coughed & sprayed blood" and drops dead (brief); man clubs a cat to knock unconscious; characters are ordered to be killed and a fight ensues; appearance of injured character who recounts struggle with animals; brief fight with biting etc., resulting in a death; report of a body found (torn to pieces); report of death from old age.
Sex/Nudity: None
Mature Subject Matter:
Treason, loyalty, death, tyranny, death of family members, prejudice, bullying.
Alcohol / Drug Use:
None
Reviewed By Cindy