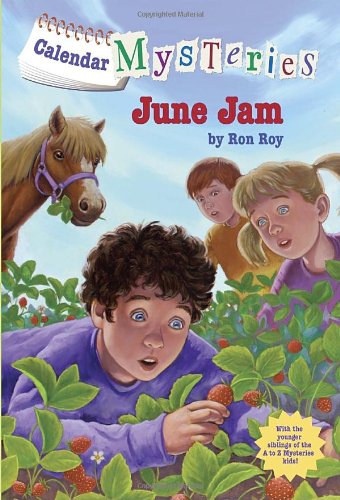 Publisher's Note:
Bradley, Brian, Nate, and Lucy are getting ready for Father's Day. They've decided that strawberry jam from the Pintos' strawberry patch would be a great gift. But something or someone has been taking bites out of the strawberrys! Polly the Pony, Pal and the dog, and the twins' brother Josh are all suspects. If the kids can't protect the strawberry patch from the mystery chomper, they might be in a real jam! Ron Roy's sixth Calendary Mysteries book has a fun Father's Day and all the sweetness of summer.
This book was sent to Compass Book Ratings for review by Random House Children's Books
Calendar Mysteries: June Jam
by Ron Roy
Overall Review:
Perfection! These pint-sized mystery plots are engaging, humorous, and ideal for young children and independant young readers. Showcasing the younger siblings from the highly acclaimed A to Z Mysteries books, author Ron Roy has given us another winning series. I read these titles aloud to my 3, 5, and 7 year old children. When I had to stop for the night, they cried for me to keep reading. My 3 year-old even spent the following day chatting and speculating about what she thought was going to happen next! I have nothing but total admiration for author Ron Roy and his gift for crafting enthralling, thoughtful, and age-appropriate mysteries for children. These are winning books that will have children everywhere asking, no, begging, for more!

Content Analysis:
These are definitely Squeaky Clean Reads. The publisher recommends these titles for ages 9-12. However, I found that my 3, 5, and 7 year-old children were all very engaged with these stories as well. These would be great read-aloud choices. Also, if you have an independant reader who is Pre-K to 2nd grade, these books would be good selections, as the storylines are completely appropriate for very young readers.
Mature Subject Matter:
***
Alcohol / Drug Use:
***
Reviewed By Melissa