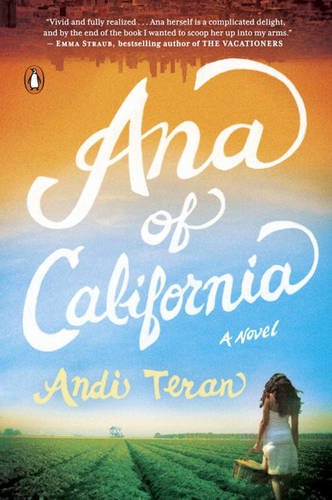 Publisher's Note:
A modern take on the classic coming-of-age novel, inspired by Anne of Green Gables

In the grand tradition of Anne of Green Gables, Bridget Jones's Diary, and The Three Weissmanns of Westport, Andi Teran's captivating debut novel offers a contemporary twist on a beloved classic. Fifteen-year-old orphan Ana Cortez has just blown her last chance with a foster family. It's a group home next—unless she agrees to leave East Los Angeles for a farm trainee program in Northern California.

When she first arrives, Ana can't tell a tomato plant from a blackberry bush, and Emmett Garber is skeptical that this slight city girl can be any help on his farm. His sister Abbie, however, thinks Ana might be just what they need. Ana comes to love Garber Farm, and even Emmett has to admit that her hard work is an asset. But when she inadvertently stirs up trouble in town, Ana is afraid she might have ruined her last chance at finding a place to belong.
Ana of California: A Novel
by Andi Teran
Overall Review:
My mother loves Anne of Green Gables, and I think I inherited that love from her. In fact, I adore L.M. Montgomery as a writer. So when I ran across this book on a website, I knew I had to read it ASAP. I had my hands on a copy within a week, and gobbled this book up; I really didn't want this book to end. Recently, some of Jane Austen's novels have been re-written by modern day authors, and this book is similar, but in my opinion, it is ten times better.
Ana Cortez (with one 'n') is Anne, of course. Not only does she feel the need to tell people how her name is spelled, but she also has a mane of crazy hair, just like the classic Anne. Although the situations in this book are often changed around (her best friend takes mushrooms instead of getting drunk on raspberry cordial, for example) they are easily recognized as the trials and tribulations "Anne with an E" faced in Anne of Green Gables. I actually had a lot of fun trying to guess who was who and what scenes were supposed to be happening when.
This book is perfect for anyone who loved the classic story or even for someone who has never read it. It was fun, lighthearted, and I hope this author writes more of Ana's story. This will be a book I will share with my mom, and perhaps even re-read in years to come.
Content Analysis:
Profanity/Language: 3 religious exclamations; mild obscenities; 4 religious profanities; 3 derogatory names; 3 anatomical terms; 2 F-Word derivatives.
Violence/Gore: Verbal threats are made in a brief scene; a minor mentions that both of her parents are dead several times; an animal is mentioned to have died from suspected abuse, some blood is mentioned; gang violence is mentioned; a gang is mentioned to have killed two adults, leaving a child an orphan; a man slaps his son; two minors go missing in one extended scene.
Sex/Nudity: A minor announces she is a lesbian; a woman is mentioned to have left her husband; a sexually explicit comment is made; an STD is referred to as a joke; minors kiss briefly twice; minors make out in one brief mention; a revealing dress is mentioned to have been seen on a woman.
Mature Subject Matter:
Death, gang violence, orphans, personal crises.
Alcohol / Drug Use:
Wine is mentioned to be made; an adult drinks beer; minors drink sparkling wine; psychadelic mushrooms are consumed by minors in one scene.
Reviewed By Lydia