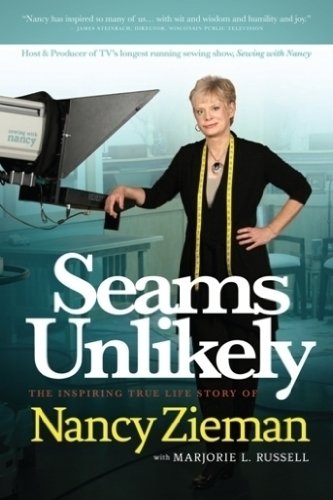 Publisher's Note:
Millions of women learned to sew while watching the inimitable Nancy Zieman on public television's, Sewing with Nancy. Many of them have Googled phrases like "stroke Nancy Zieman" in an effort to discover the reasons behind the partial paralysis of Nancy's beautiful face. Viewers purchased products Nancy used through Nancy's Notions, followed patterns she created for McCall's, and enjoyed meeting distinguished guests via the show.

While today's Christian women read of Lydia and the Proverbs 31 woman and wonder how we can ever practice our faith so well in today's harried existence, Nancy Zieman was quietly living out her faith in Wisconsin. Her large Lutheran family ordered their lives around the farm, the seasons, and the church. As Nancy wrestled with the difficulties borne by the Bell's palsy, she also learned to rely heavily on God and believe that He had a purpose for her, a life lived to honor Him. Little did she realize that God would take a woman with half a paralyzed face and bless her with the longest running sewing show on North American television.

For the first time, Nancy shares openly about the Bell's palsy that not only affected her appearance, but also her esteem and physical abilities. Readers learn about the growth of Nancy professionally: from addressing catalogs at the kitchen table to growing a multi-million dollar notions business - and personally: marrying Rich, then growing a family through birth and adoption.

Through it all, the picture emerges of a hard-working woman of staunch faith who overcame various and varied obstacles to become what she is today: successful, humble, skilled, gracious, grateful and loved by millions of viewers.

For any woman who has wondered how God could possibly build a purposeful life from one so unlikely, Nancy Zieman serves as a beautiful example of a life lived one step at a time, as He allows.
Seams Unlikely
by Nancy Zieman
Overall Review:
Seams Unlikely is the autobiography of Nancy Zieman who is well known for her Sewing with Nancy television series. Zieman demonstrates great tact and restraint while sharing many of personal and sensitive feelings.
The book is well done because the author shares not only her story, but some of the day to day details of her life on the farm. As an added bonus, Zieman includes a few recipes. She offers insights into the challenges she faced and continues to face as a result of a permanent health challenge.
It is an enjoyable book because the sharing by Nancy Zieman is very honest, and yet she did not turn her life into a soap opera or made for television drama. She speaks honestly about some offensive or disturbing behaviors she has experienced with her fans and she also shares some positive moments.
Prior to reading this book, I had never watched even one episode of Sewing with Nancy, but this book was a great read all the same. Nancy's sense of humor and her personality are well portrayed in the text and it almost seems as if she is sitting on your back porch chatting over a glass of ice cold lemonade. Readers will find hope and inspiration from the things Zieman has overcome. It is a pleasure to read about a person who still values what many are coming to call old fashion values. Pick this book up and enjoy the journey.
Content Analysis:
Profanity/Language: None
Violence/Gore: Mention of a person committing suicide, no details.
Sex/Nudity: None
Mature Subject Matter:
Suicide, chronic ailments.
Alcohol / Drug Use:
Mention of college students consuming beer; adults consume alcohol at social functions; author mentions others using drugs, but people in the book did not; a person is an alcoholic.
Reviewed By Susan