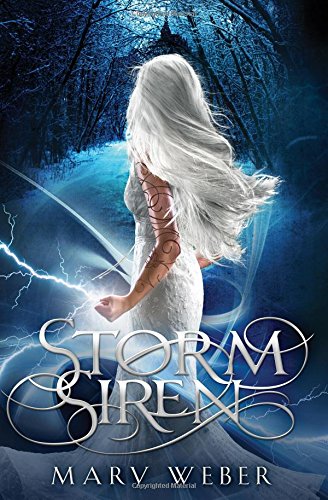 Publisher's Note:
"I raise my chin as the buyers stare. Yes. Look. You don't want me. Because, eventually, accidentally, I will destroy you."

In a world at war, a slave girl's lethal curse could become one kingdom's weapon of salvation. If the curse - and the girl - can be controlled.

As a slave in the war-weary kingdom of Faelen, seventeen-year-old Nym isn't merely devoid of rights, her Elemental kind are only born male and always killed at birth - meaning, she shouldn't even exist.

Standing on the auction block beneath smoke-drenched mountains, Nym faces her fifteenth sell. But when her hood is removed and her storm-summoning killing curse revealed, Nym is snatched up by a court advisor and given a choice: be trained as the weapon Faelen needs to win the war, or be killed.

Choosing the former, Nym is unleashed into a world of politics, bizarre parties, and rumors of an evil more sinister than she's being prepared to fight . . . not to mention the handsome trainer whose dark secrets lie behind a mysterious ability to calm every lightning strike she summons.

But what if she doesn't want to be the weapon they've all been waiting for?

Set in a beautifully eclectic world of suspicion, super abilities, and monsters, Storm Siren is a story of power. And whoever controls that power will win.
This book was sent to Compass Book Ratings for review by Thomas Nelson
Storm Siren
by Mary Weber
Overall Review:
As book one of The Storm Siren Trilogy, author Mary Weber really captured my interest with Storm Siren. The main character, Nym, is a force to be reckoned with, even against the many fierce opponents who come her way. There are so many great characters in this story. It will be fun to get to know them better throughout the series. This is a story for male and female audiences as it has a little something for both. The reader finds plenty of action and conflict, elemental magic, and the beginnings of a love story. The final pages will have readers at the edge of their seat. Fortunately the next book is already available and I am anxious to see where Weber takes the rest of this story. Fans of Juliet Marillier's Shadowfell need to pick up this book, as there are a lot of similarities between the two.
Content Analysis:
Profanity/Language: None

Violence/Gore: Many (41) brief incidents including character joking about suicide; verbal threats; potential to get killed; flesh-eating animals mentioned; references to war; secondhand report of young child's feet bleeding and watching house burn down with parents in it (and they die); character accidentally murders a few different people; reference to intentional murder; secondhand report that plague is killing people; reference to character losing arm; secondhand report of a town and people in it burning; insinuation of character having been physically abused; reference to men being killed by animal; character cuts arms to create tattoos; character's body explodes due to fantasy violence; tree destroyed from elemental violence; violent dreams; fantasy animals killed; character is punched and threatened to have finger broken again (which had previously been done); character cut and punched; male character kicked in the crotch; character nearly chokes little girl over and over again; mountain explodes - war violence; bar fight; explosions, fire and many killed; fantasy violence kills people during war.
One extended incident of fighting during war resulting in many deaths.
Sex/Nudity: Many (30) brief incidents including flirting; innuendo; hugging; hand on shoulder, elbow and waist; male character jokes about female character throwing herself at him and having hands all over him (none of which actually occurred); kissing; dancing; wanting and imagining kissing; lewd comments made; reference to lady having lovers; reference to male characters taking advantage of female characters with rape insinuated; references to a "favor house"; female character has a low-cut dress; character asks another if he and another are lovers (which they are not); female character touches male character's chest.
Mature Subject Matter:
Child slavery, starvation, death, death of parents, war, murder.
Alcohol / Drug Use:
Characters drink with dinner, at parties and bars; reference to character's father being a drunk; reference to getting drunk.
Reviewed By Jenny