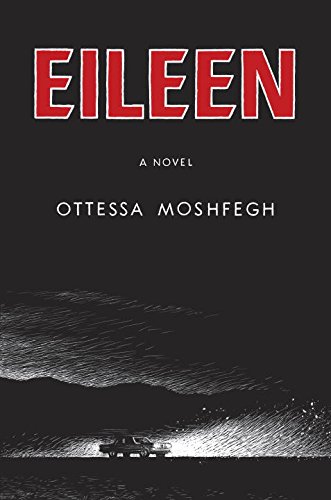 Publisher's Note:
A lonely young woman working in a boys' prison outside Boston in the early 60s is pulled into a very strange crime, in a mordant, harrowing story of obsession and suspense, by one of the brightest new voices in fiction

So here we are. My name was Eileen Dunlop. Now you know me. I was twenty-four years old then, and had a job that paid fifty-seven dollars a week as a kind of secretary at a private juvenile correctional facility for teenage boys. I think of it now as what it really was for all intents and purposes—a prison for boys. I will call it Moorehead. Delvin Moorehead was a terrible landlord I had years later, and so to use his name for such a place feels appropriate. In a week, I would run away from home and never go back.

This is the story of how I disappeared.

The Christmas season offers little cheer for Eileen Dunlop, an unassuming yet disturbed young woman trapped between her role as her alcoholic father's caretaker in a home whose squalor is the talk of the neighborhood and a day job as a secretary at the boys' prison, filled with its own quotidian horrors. Consumed by resentment and self-loathing, Eileen tempers her dreary days with perverse fantasies and dreams of escaping to the big city. In the meantime, she fills her nights and weekends with shoplifting, stalking a buff prison guard named Randy, and cleaning up her increasingly deranged father's messes. When the bright, beautiful, and cheery Rebecca Saint John arrives on the scene as the new counselor at Moorehead, Eileen is enchanted and proves unable to resist what appears at first to be a miraculously budding friendship. In a Hitchcockian twist, her affection for Rebecca ultimately pulls her into complicity in a crime that surpasses her wildest imaginings.

Played out against the snowy landscape of coastal New England in the days leading up to Christmas, young Eileen's story is told from the gimlet-eyed perspective of the now much older narrator. Creepy, mesmerizing, and sublimely funny, in the tradition of Shirley Jackson and early Vladimir Nabokov, this powerful debut novel enthralls and shocks, and introduces one of the most original new voices in contemporary literature.
This book was sent to Compass Book Ratings for review by Penguin Press HC
Eileen: A Novel
by Ottessa Moshfegh
Overall Review:
I have been waiting for a book like Eileen to be published for a few years now. Ever since I read Sharp Objects by Gillian Flynn, I have been on the lookout for a book that would thrill me with its twists and turns, unpredictable events, and dark, gritty characters. This book was all I could have hoped for--and more.
I didn't know much about this book before I began reading it, and so I was taken by surprise at the plot that awaited me. A woman named Eileen; a prison for boys that Eileen is employed at; hateful co-workers that snigger behind Eileen's back--all of these things were wonderful and horrible all at the same time. The descriptions the author added about Eileen to reveal her personality bit by bit both delighted me and made me afraid. I couldn't get enough of this book.
Though this story is probably technically fiction, I categorize this book as part mystery/thriller, too. The ending is a stunner, so prepare for that, and some of the scenes are a little disturbing and gross (let's just say that hygiene doesn't seem to be a high priority here). All in all, this book is great, and I think it will appeal to many different audiences and age groups.
Content Analysis:
Profanity/Language: 4 religious exclamations; 5 mild obscenities; 1 derogatory name; 2 scatological words; 3 anatomical terms; 1 F-Word derivative.
Violence/Gore: Violent death rituals mentioned; a character imagines a violent death; a character mentions that their mother is dead; a character is mentioned to strangle a baby, no detail is given; an animal is abused in a brief mention; a rape is mentioned with no detail; laws are broken; a character considers cutting their wrists; shoplifting is mentioned; an animal is mentioned to have died; a character contemplates shooting herself; a boy is mentioned to have slit his father's throat after abuse, killing him; prostitution of young males is mentioned with no detail; inmates are mentioned to be abused; a character makes threats with a gun; a character is disruptive in public in a brief scene; a picture of a dead character is shown to a character, some blood is visible; a character shoots a character and blood is mentioned; a woman is tied up in a basement as a hostage; an abortion/unwanted pregnancy is implied.
Sex/Nudity: A homosexual is imagined in a brief sexual scene in a character's mind; an unmarried couple is mentioned to live together and is implied to be sexually active; breasts are spoken of in one scene; sex acts are referred to by a character; a sexual fantasy is described in a brief scene; a porn magazine is mentioned twice; French kissing occurs between adults; a woman is referred to as a "whore"; a woman observes her own nudity; a minor boy tries to force a kiss on a girl; an adult man touches his son in an inappropriate way; a minor boy has sexual relations with his mother; sodomy and rape are referred to, no detailed scenes; a father is mentioned to force sexual relations on his son; sex is implied between adults.
Mature Subject Matter:
Sexual assault, incest, death, prison violence, rape, child abuse, addictions, abortion.
Alcohol / Drug Use:
An adult man is mentioned to be drunk; drunk driving occurs; gin and beer are drunk; a woman is mentioned to be drunk; a character smokes a cigarette; a man smokes a cigar.
Reviewed By Lydia