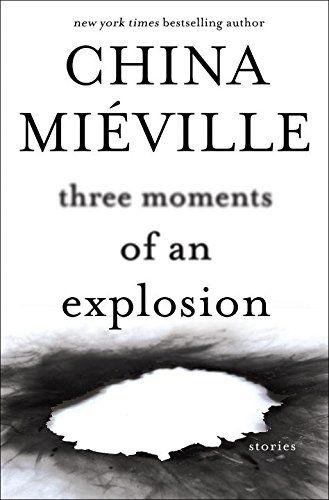 Publisher's Note:
The fiction of multiple award–winning author China Miéville is powered by intelligence and imagination. Like George Saunders, Karen Russell, and David Mitchell, he pulls from a variety of genres with equal facility, employing the fantastic not to escape from reality but instead to interrogate it in provocative, unexpected ways.

London awakes one morning to find itself besieged by a sky full of floating icebergs. Destroyed oil rigs, mysteriously reborn, clamber from the sea and onto the land, driven by an obscure but violent purpose. An anatomy student cuts open a cadaver to discover impossibly intricate designs carved into a corpse's bones—designs clearly present from birth, bearing mute testimony to . . . what?

Of such concepts and unforgettable images are made the twenty-eight stories in this collection—many published here for the first time. By turns speculative, satirical, and heart-wrenching, fresh in form and language, and featuring a cast of damaged yet hopeful seekers who come face-to-face with the deep weirdness of the world—and at times the deeper weirdness of themselves—Three Moments of an Explosion is a fitting showcase for one of literature's most original voices.
This book was sent to Compass Book Ratings for review by Del Rey
Three Moments of an Explosion: Stories
by China Mieville
Overall Review:
Sometimes I find it difficult to be drawn into a book of short stories. What is the author trying to do? Did they just have a little idea, and not the whole story, but decide to share it anyway? Why not write a book? I found Three Moments of an Explosion to be very addicting though, almost to the point where I couldn't put it down. The first story didn't impress, but from there, the stories became better and better.
This collection was full of odd ideas and concepts, but I loved them! I loved the thought of icebergs floating in the sky and being explored, of medical mysteries being discovered and researched to no avail, and of how all of the stories seemed to have an underlying dystopian feel. I wouldn't necessarily recommend it to teens, unless they are older and more mature, but adults that enjoy dystopian fiction will fall head-over-heels. Some of the chapters are a few pages long, and others range into 15-20 pages. Either way, this book is one you could pick up and put down easily, if needed.
It is difficult to choose just one story that I enjoyed the most, so I won't. I will say that I especially liked the ones where the characters were archaeologists, and I disliked the gorier story of weirdness and animal heads. Let's just say this book was an odd one, but a good one!
Content Analysis:
Profanity/Language: 23 religious exclamations; 4 mild obscenities; 2 religious profanities; 2 religious profanities; 2 derogatory names; 16 scatological words; 3 anatomical terms; 41 F-Word derivatives.
Violence/Gore: Intentionally destroying buildings is reported; a character reports that they have a dead aunt; dead bodies are mentioned to be seen with no description; creepy alien-like things are observed and terrify people; a character is reported to be thought drowned; a scene occurs where ghosts are seen and spoken of; a nightmare is described with some detail; violent punishments are described in brief detail; an animal is mentioned to be killed, later a description is given and blood is mentioned to have splattered and the pig butchered; characters think about and discuss death; a man is injured by a machine and the wounds are briefly described along with "oozing blood"; an animal is shot and killed for sport in a brief mention; a dead person is observed and mentioned to have wounds; a bombing occurs with no description; explosions are heard in the distance; a man smacks a woman; gun violence is mentioned in no detail; dead bodies are prepared for burial in one brief scene with a little description.
Sex/Nudity: A character kisses another on the cheek; a character is referred to as "sexy"; an affair is suspected; sex is referred to once.
Mature Subject Matter:
Cancer, death, personal crises, war, gun violence, gambling, paranormal.
Alcohol / Drug Use:
A character is mentioned to have a cigarette lighter; a character smokes; adults mentioned to drink at a bar.
Reviewed By Lydia