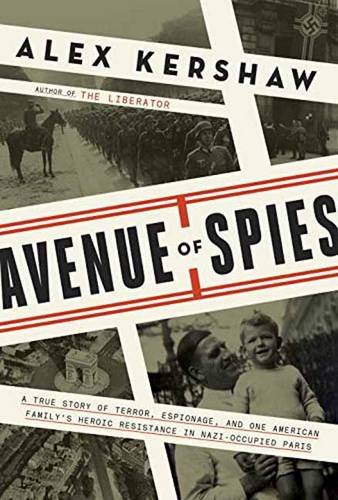 Publisher's Note:
The best-selling author of The Liberator brings to life the incredible true story of an American doctor in Paris, and his heroic espionage efforts during World War II

The leafy Avenue de Foch, one of the most exclusive residential streets in Nazi-occupied France, was Paris's hotbed of daring spies, murderous secret police, amoral informers, and Vichy collaborators. So when American physician Sumner Jackson, who lived with his wife and young son Phillip at Number 11, found himself drawn into the Liberation network of the French resistance, he knew the stakes were impossibly high. Just down the road at Number 31 was the "mad sadist" Theodor Dannecker, an Eichmann protégé charged with deporting French Jews to concentration camps. And Number 84 housed the Parisian headquarters of the Gestapo, run by the most effective spy hunter in Nazi Germany.

From his office at the American Hospital, itself an epicenter of Allied and Axis intrigue, Jackson smuggled fallen Allied fighter pilots safely out of France, a job complicated by the hospital director's close ties to collaborationist Vichy. After witnessing the brutal round-up of his Jewish friends, Jackson invited Liberation to officially operate out of his home at Number 11--but the noose soon began to tighten. When his secret life was discovered by his Nazi neighbors, he and his family were forced to undertake a journey into the dark heart of the war-torn continent from which there was little chance of return.

Drawing upon a wealth of primary source material and extensive interviews with Phillip Jackson, Alex Kershaw recreates the City of Light during its darkest days. The untold story of the Jackson family anchors the suspenseful narrative, and Kershaw dazzles readers with the vivid immediacy of the best spy thrillers. Awash with the tense atmosphere of World War II's Europe, Avenue of Spies introduces us to the brave doctor who risked everything to defy Hitler.
This book was sent to Compass Book Ratings for review by Crown Publishers
Avenue of Spies: A True Story of Terror, Espionage, and One American Family's Heroic Resistance in Nazi-Occupied Paris
by Alex Kershaw
Overall Review:
I've mentioned in previous reviews that I am fascinated by the Holocaust--not in a creepy way. I am just astounded when I read about the horrific events that transpired at the time, and how humanity has been changed by it. When the opportunity arose for me to review this book, I was a little excited and also intimidated. I've never been good at history, although I do really like certain periods of time more than others. This book was wonderful in several aspects: one being that it offered a look at World War II in a very historical and educational way and another being the way the author portrayed not only historical events, but also accounts of some of the people that the book mentions.
Sometimes I forget that it was not only Germans and Jews that were involved in the horrors of the Holocaust. This book was a reminder to me that Paris, the United States, Poland, and many other areas were also touched by the war. This book will not only interest history buffs, but also those who like to read about medicine. The book loosely follows the lives of the Sumner family as they are pulled into the war, and how they coped with the changes that happened to Paris over time. Mrs. Sumner was of special interest to me, mostly because she was one of the only female characters. I enjoyed reading the parts where her perspective was given, and how she got through life without her husband and son by her side at every moment.
Whether you are looking for a book about medicine, doctors, war, loss, or survival, this book is all of those. It is far from a light read, but the story does move quickly, as I was able to read it in an afternoon. Brace yourself, and read this book. You won't want to miss it.
Review of an Advance Reader Copy
Content Analysis:
Profanity/Language: 1 mild obscenity; 1 derogatory name; 1 scatological word; 1 anatomical term.
Violence/Gore: War injuries are mentioned; a leg is mentioned to be amputated; a burning building is seen and referred to; dead people are mentioned to be seen; innocent citizens are threatened by soldiers; bombings referred to, shootings referred to; injuries from war are briefly described; animals are mentioned to be killed after owner abandons them; deportees described to be in horrible conditions; a minor is mentioned to be punched and have a bloody nose as a result; executions mentioned to occur in death camps; suicide is considered; threats are made; a minor sees dead humans lying exposed; a woman is tortured by a soldier in a brief scene; people die from extreme weather and conditions; cannibalism is mentioned to occur; a person is observed to have hung themself; a third degree burn occurs in a brief scene; beatings referred to; severe violence by law officials is observed in several scenes.
Sex/Nudity: Adults are mentioned to kiss; a whorehouse is referred to twice; women prisoners are mentioned to strip to try to cool down; male soldiers see women nude, mock them briefly; men are mentioned to enjoy the company of women (sex is implied).
Mature Subject Matter:
War, death, loss of a loved one, terrorism, suicide, sex/gender identity issues, personal crises, torture, murder, racism, the Holocaust.
Alcohol / Drug Use:
Adults drink wine; adults drink champagne; an adult smokes cigars and cigarettes.
Reviewed By Lydia