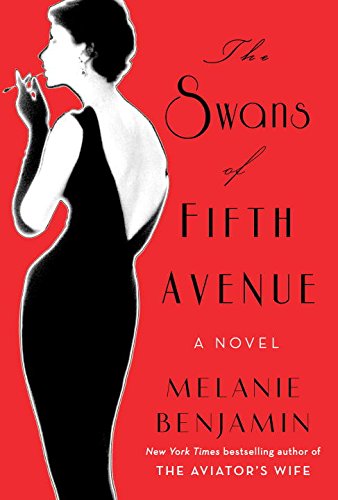 Publisher's Note:
The New York Times bestselling author of The Aviator's Wife returns with a triumphant new novel about New York's "Swans" of the 1950s—and the scandalous, headline-making, and enthralling friendship between literary legend Truman Capote and peerless socialite Babe Paley.

Of all the glamorous stars of New York high society, none blazes brighter than Babe Paley. Her flawless face regularly graces the pages of Vogue, and she is celebrated and adored for her ineffable style and exquisite taste, especially among her friends—the alluring socialite Swans Slim Keith, C. Z. Guest, Gloria Guinness, and Pamela Churchill. By all appearances, Babe has it all: money, beauty, glamour, jewels, influential friends, a high-profile husband, and gorgeous homes. But beneath this elegantly composed exterior dwells a passionate woman—a woman desperately longing for true love and connection.

Enter Truman Capote. This diminutive golden-haired genius with a larger-than-life personality explodes onto the scene, setting Babe and her circle of Swans aflutter. Through Babe, Truman gains an unlikely entrée into the enviable lives of Manhattan's elite, along with unparalleled access to the scandal and gossip of Babe's powerful circle. Sure of the loyalty of the man she calls "True Heart," Babe never imagines the destruction Truman will leave in his wake. But once a storyteller, always a storyteller—even when the stories aren't his to tell.

Truman's fame is at its peak when such notable celebrities as Frank and Mia Sinatra, Lauren Bacall, and Rose Kennedy converge on his glittering Black and White Ball. But all too soon, he'll ignite a literary scandal whose repercussions echo through the years. The Swans of Fifth Avenue will seduce and startle readers as it opens the door onto one of America's most sumptuous eras.
This book was sent to Compass Book Ratings for review by Delacorte Press
The Swans of Fifth Avenue: A Novel
by Melanie Benjamin
Overall Review:
I have to admit that I am not real keen on historical fiction, and when I first began reading this book I had the feeling this novel was just that. But not to worry, this book is so much more! To be honest, I had a hard time putting it down. The characters were intriguing, the story was new, and it was unlike anything I have read in a long time.
The first thing that I fell in love with was that this book has a very unlikely character, one I want to learn more about: Truman Capote. I had just finished reading Harper Lee's book Go Set a Watchman when I started this book, and "Nelle" is mentioned in this book, as she and Truman were quite close at one time. More prominent in this story though, is Babe Paley, someone I knew nothing about and whose name I had never even heard before the reading of this book. But boy, does she have a story. One that Truman seemed to be a bit too eager to tell.
I never saw the ending of this book turning out the way it did. In that way, Melanie Benjamin wrote a sort of mystery. This book is like a fictional, historical mystery, with a lot of the truth thrown in. This is the kind of writing that I wish would make its way into non-fiction more often.
Content Analysis:
Profanity/Language: 21 religious exclamations; 26 mild obscenities; 5 religious profanities; 20 derogatory names; 5 scatological words; 5 anatomical terms; 4 F-Word derivatives.
Violence/Gore: A murder is mentioned to occur; a character is mentioned to have killed herself by taking pills and drinking alcohol; a character mentions her mother has died; a car crash with an injury is referred to with no detail; a woman is mentioned to have shot and killed her husband, no detail is given; a family is written about and they are mentioned to have been "slaughtered"; muggings, beatings, and knifings are referred to in a brief scene; a suicide is suspected to have occurred by cyanide; death threats are made; a woman is described to have died peacefully.
Sex/Nudity: A woman is referred to as a whore; a woman is implied to entertain more than one lover; an affair is referred to; two men are mentioned to be in love; a woman mourns her lack of sex life with her husband; two minors share a first kiss in one brief mention; sex is discussed between a group of characters; a woman is mentioned to sleep with many men; a man imagines sleeping with multiple women; a woman is mentioned to have had surgery done on her breasts; a man recalls a sexual encounter with his wife in one brief recollection; a man imagines having sex with women; a fling is implied between a married man and a single woman; a man and woman undress in one brief scene with no explicit detail; a woman flashes a man in one brief scene with some brief description of her nude areas; a crude nudity joke is made; homosexuality is referred to.
Mature Subject Matter:
Sex/gender identity issues, illness, divorce, adultery/infidelity, cancer, death/murder, suicide.
Alcohol / Drug Use:
Adults drink copiously; adults smoke; champagne is drunk; wine is served and drunk; LSD, cocaine and pot are referred to; a character is mentioned to be "stoned"; a character is mentioned to have killed herself by taking pills and drinking alcohol.
Reviewed By Lydia