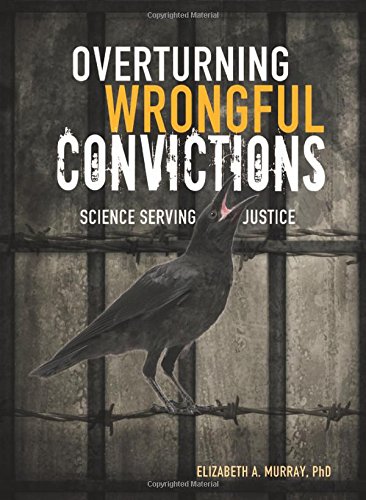 Publisher's Note:
Imagine being convicted of a crime you didn't commit and spending years behind bars. Since 1989 more than 1,400 Americans who experienced this injustice have been exonerated. Some of the people who have won their freedom include Ronald Cotton, who was falsely convicted of raping a college student; Nicole Harris, who was unjustly imprisoned for the death of her son; and intellectually disabled Earl Washington Jr., who was unfairly sentenced to death for the rape and murder of a young mother. Wrongful convictions shatter lives and harm society by allowing real perpetrators to potentially commit additional crimes.

How can such injustices happen? Overturning Wrongful Convictions recounts stories of individuals who served someone else's prison time due to mistaken eyewitness identification, police misconduct, faulty forensic science, poor legal representation, courtroom mistakes, and other factors. You'll learn about the legal processes that can lead to unjust convictions and about the Innocence Project and other organizations dedicated to righting these wrongs.

The sciences—including psychology, criminology, police science, and forensic science—work hand in hand with the legal system to prosecute and punish those people whose actions break laws. Those same sciences can also be used to free people who have been wrongfully convicted. As a society, can we learn from past mistakes to avoid more unjust convictions?
This book was sent to Compass Book Ratings for review by Lerner Publishing Group
Overturning Wrongful Convictions
by Elizabeth A. Murray, PhD
Overall Review:
Overturning Wrongful Convictions by Elizabeth A. Murray, PhD, is a non-fiction book that will interest anyone that finds forensic science intriguing. In this well-written book, Dr. Murray goes into great detail about how science is helping to overturn wrongful convictions. She highlights several cases in which DNA or other evidence has cleared individuals over the years. Younger readers may lose interest as there are many technical details and explanations of the criminal justice system throughout the book. The crimes committed are not heavily detailed, making this book appropriate for 14+. The author is factual and brief when describing actual crimes, and there are very few details about the incidents.
The forensics and crime scene protocol that are discussed are fascinating!
Content Analysis:
Profanity/Language: None

Violence/Gore: Woman is said to have been beaten, and left for dead tied up with her shirt (with some details of injuries); criminal confesses to an attack; criminal is said to have murdered a pregnant woman; body was found with more than thirty stab wounds; mom is accused of strangling her son; child is saved from a burning house; suspect is charged with assault and arson; victim was shot to death; suspect is accused of breaking into a home and hitting the elderly woman with a chair; victim is shot in the back while driving; three year old abducted, raped and murdered; man is killed in a drive by shooting; ten year old is kidnapped, raped, and murdered; suspect dumps a woman's body; suspect is accused of accelerating and hitting a vehicle and killing three victims.
Sex/Nudity: Criminal is accused of rape; victim states she was raped; suspect is charged with rape; multiple cases involve rape.
Mature Subject Matter:
Rape, murder, beatings, abuse, criminal activity.
Alcohol / Drug Use:
Several locations are referred to as drug infested.
Reviewed By Nicole