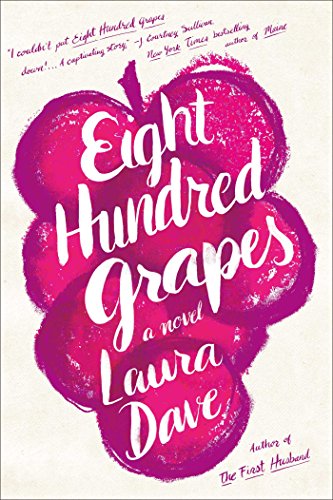 Publisher's Note:
*Glamour Magazine "Best Books of the Summer"*

*Cosmopolitan "30 Things to Do This Month"*

*Us Weekly "Hot Summer Reads"*

*MarieClaire.com "The 7 Books You Have to Read This Summer"*

*Popsugar.com "Best 2015 Summer Reads"*

*Health.com "11 Best Beach Reads of the Summer"*

There are secrets you share, and secrets you hide….

Growing up on her family's Sonoma vineyard, Georgia Ford learned some important secrets. The secret number of grapes it takes to make a bottle of wine: eight hundred. The secret ingredient in her mother's lasagna: chocolate. The secret behind ending a fight: hold hands.

But just a week before her wedding, thirty-year-old Georgia discovers her beloved fiancé has been keeping a secret so explosive, it will change their lives forever.

Georgia does what she's always done: she returns to the family vineyard, expecting the comfort of her long-married parents, and her brothers, and everything familiar. But it turns out her fiancé is not the only one who's been keeping secrets….

Bestselling author Laura Dave has been dubbed "a wry observer of modern love" (USA TODAY), a "decadent storyteller" (Marie Claire), and "compulsively readable" (Woman's Day). Set in the lush backdrop of Sonoma's wine country, Eight Hundred Grapes is a heartbreaking, funny, and deeply evocative novel about love, marriage, family, wine, and the treacherous terrain in which they all intersect.

In this breakout novel from an author who "positively shines with wisdom and intelligence" (Jonathan Tropper, This Is Where I Leave You), Laura Dave "writes with humor and insight about relationships in all their complexity, whether she's describing siblings or fiancés or a couple long-married. Eight Hundred Grapes is a captivating story about the power of family, the limitations of love, and what becomes of a life's work" (J. Courtney Sullivan, Maine).
Eight Hundred Grapes: A Novel
by Laura Dave
Overall Review:
I must say, I was impressed by this book. I thought that a book about a winery wouldn't be that interesting, but I had a copy sitting in my "to read" pile for months, so I decided to give it a go. I was pleasantly surprised to find this book to be written in a way that reminded me of Elin Hilderbrand. This book is a good read for summer.
The premise of this book is not one that would typically be of interest to me. I don't drink wine, I'm already married, and my family isn't on the brink of disaster (that I know of). Maybe that is why it was fun to read about all of these things. The author did a splendid job of creating a story where wine played a big part, but didn't completely take over. If you are a wine drinker, this book would be good one to read, not only for the love of grapes and wine that some of the characters portray, but because you get a juicy story to go along with it.
Most of this book was taken up with the main character, Georgia, deciding whether or not to go through with a huge decision--one that involves more than her and her family. At times she seemed a bit flaky, but in real life, people are like that all the time. This book is about wine, relationships, love, and second chances. It pairs well with a good glass of red or white wine--if you are into that.
Content Analysis:
Profanity/Language: 4 religious exclamations; 1 mild obscenity; 3 derogatory names; 9 scatological words; 2 anatomical tems; 14 F-Word derivatives.
Vionce/Gore: A tent catches fire; grown men get into a fistfight, punches are thrown.
Sex/Nudity: A woman is mentioned to have had a child out of wedlock; a woman is observed to be carrying on an affair with a man; a character admits to having an affair; characters are referred to as sexy a couple of times; a woman wonders when the last time she had sex was; a couple is mentioned to spend a morning in bed; adults kiss.
Mature Subject Matter:
Personal crises, extramarital affairs.
Alcohol / Drug Use:
Adults drink wine frequently.
Reviewed By Lydia