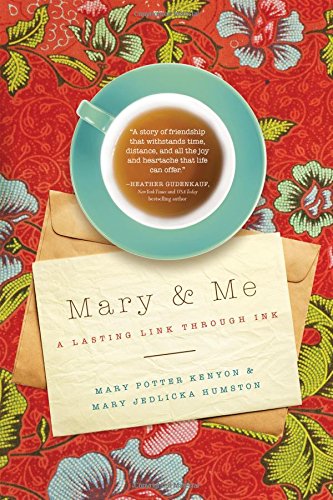 Publisher's Note:
Mary and Me: A Lasting Link Through Ink explores a thirty-year friendship between two women: one who had never learned to cultivate female friendships, and the other who had managed to gather and maintain a large group of friends throughout her adult life. The fact that thousands of handwritten letters between them linked these two together is just part of the intriguing story. Mary Potter Kenyon, the author of "Refined by Fire," "Coupon Crazy," and "Chemo-Therapist," and her co-writer Mary Jedlicka Humston share an unforgettable friendship that will inspire you to pick up your pen and begin writing "Dear . . . "

"For thirty years, the Marys have maintained their correspondence, their connection empowered by sheets of paper. Through their letters, these two friends have been able to get through extremely difficult moments and grow as mothers, friends, and community members. Their commitment to each other is apparent within these pages. One cannot help but smile when reading how Mary Kenyon and Mary Humston have flourished through their friendship with each other."- from the Foreword by Kathy Zadrozny & Donovan Beeson Yothers, Founders of the Letter Writers Alliance
This book was sent to Compass Book Ratings for review by Familius
Mary and Me: A Lasting Link Through Ink
by Mary Potter Kenyon and Mary Jedlicka Humston
Overall Review:
Are you looking for a book about friendship? Have you recently been mourning the lack of interesting mail in your mailbox? Then this book might be just what you need. It offers so much: tips on friendship, faith, family, letter writing, and how two women can cultivate a friendship at first through letters, and later through face-to-face meetings.
If you are a letter writer, friend, a human, or someone who used to write letters, but has put away their pen and paper for more conventional methods, read this book! I assure you, it is well worth your time. Not only did it remind me of how much I enjoy mail and handwritten letters, but it also drove home the point that friendship is something to hold dear. Whether you are surrounded by many friends, or only have a few. This book is a wonderful testament to the power of letters, and most if all...friendship
Disclosure: This book was written by my mother-in-law and her close friend so it may appear that I am biased. Maybe so, but I am confident that if I was the average reader picking up this book in a library or book store, taking it home and reading it, my reaction to it would have been the same as it was reading it today. I could not put this book down. Not only is the cover of this slim volume beautiful and eye appealing, but the writing within is every bit as wonderful.
Review of an Advance Reader Copy
Content Analysis:
Profanity/Language: None
Violence/Gore: A still birth is mentioned; a freak accident is mentioned to occur to a friend, a death results; a minor is scared of a turtle biting off her toes; death from a heart attack is mentioned a few times; bullying occurs to a minor in school; a minor is mentioned to die in a housefire; an elderly woman is mentioned to die from lung cancer; a woman is mentioned to lose a lot of blood after a C-section.
Sex/Nudity: Women are mentioned to breast feed; a woman observes another woman's bra strap showing beneath her shirt; a woman says she misses sex after her husband's death; sex is discussed between two women.
Mature Subject Matter:
Cancer, death of a loved one, illness, job loss, politics.
Alcohol / Drug Use:
Wine is enjoyed; adults smoke; drinking in college is mentioned; drug use is referred to; marijuana is referred to.
Reviewed By Lydia