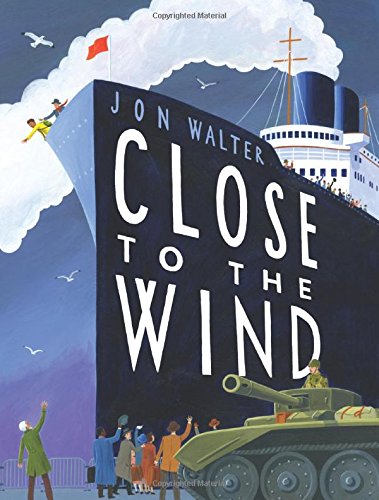 Publisher's Note:
A simple, resonant, and utterly heart-shattering debut about greed, love, trust and what matters most when your world falls apart.

A war-torn country . . . only one way out.

Ten-year-old Malik's world is falling apart. Soldiers have invaded town, and his mother is missing, leaving Malik with his grandfather, Papa. Along with a thousand other refugees, their hope for escape to a new life lies in gaining passage aboard one ship--but the demand for tickets is high, and so is the cost. Can they make it on? And will they find Mama before the ship departs? When things don't go as planned, Malik must summon all of his courage and resourcefulness to survive.

A heart-wrenching and suspenseful story of sacrifice and resilience, CLOSE TO THE WIND confronts the realities of war in a timeless and accessible way.
This book was sent to Compass Book Ratings for review by Scholastic
Close to the Wind
by Jon Walter
Overall Review:
Close to the Wind by Jon Walter takes an intimate look at the personal costs of war. The novel itself seems to be ambiguously set in a time period, with no mention of a specific war or specific enemy; however, it seems to be set in the time of World War II. Malik and his grandfather are trying to escape and make their way to the docks to sail away from turmoil. As a young boy, Malik doesn't really understand what is going on or why they are running and hiding from everyone. It is amidst this confusion and chaos, that he learns to be brave and find what he is made of. Sometimes this means he has to dig deep inside himself and just find the will to survive. From watching Malik go from a scared boy, always questioning his grandfather, to a more mature boy that learns to take the chance given to him, the reader learns how one can overcome adversity and challenges.
This personal look at the cost of war and what it can do to the young, makes Close to the Wind a valuable and educational read for any young person. However, the vagueness of the setting makes it somewhat of a frustrating read, because it is hard to place the story in history therefore making it hard to become personally invested in the story.
Content Analysis:
Profanity/Language: 7 religious exclamations
Violence/Gore: Character implicates that soldiers would shoot them without asking any questions; mention of building being burnt; 9 page scene with descriptions of one man pulling out another man's tooth (willing) with no anesthesia and includes man being tied up and man biting another man's fingers as well as description of the resulting blood; man kicks animal around as way to vent frustrations; secondhand account of woman hitting a child to get him to hurry; character holds knife to another character's throat and threatens to kill him (extended scene of 5 pages) and includes character being cut inadvertently with the knife; account of character jumping into the water and not being able to swim; character grabs boy by his ear; character threatens to throw animal overboard in revenge; secondhand account of house being bombed; mention of the death of a loved one.
Sex/Nudity: Mention of men changing in a bathroom and being naked.
Mature Subject Matter:
Death of parents at the hand of soldiers and bombs, sense of child abandonment, theft, war.
Alcohol / Drug Use:
Adult mentions that he smokes; man smokes cigarettes (2 accounts); account of man smoking cigar; boy says he'll give another boy cigarettes; adult drinks a cup of wine.
Reviewed By Sally